Heart2Heart with Chris...
15 March 2020
Dear Friends,
Every year, around this time, all the training Ministers in their final year of qualification (Probation) in our church gather at the Rocky Valley Christian Conference Centre and Camp Site near Krugersdorp for two weeks to undergo final preparation for the Ministry. I was with them on Tuesday afternoon and we spent time reflecting on what it means to a missional church, i.e. a church that is outward looking and chooses to engage with the world and partner with God in establishing his Kingdom on earth as it is in heaven. This entails loving and serving the needs of the communities we live in as we share the good news of the saving work of Jesus and do what we can to bring love, justice and hope to a world that is so often overwhelmed with hatred, injustice and hopelessness.
Passages of scripture like John 3:16 reminded us that it is God's love for the WORLD (not good people or the church

) that moved him to send his son. And Jesus' prayer in John 17 where he asks the Father not to take us out of the world, but to send us into the world, like he was. And in Mark 3:12 where we are told that Jesus appointed the 12 disciples to be WITH HIM and that he might SEND THEM OUT into the world.
As we discussed the fact that God is a God at work in the world and the Church is his tool to do this work, one of the Probationers started to tell us about the idea he has had. The congregation he currently serves is in Thembisa and he has noticed how very popular the local tavern (shebeen) is that is just down the road from his congregation's place of worship. He has seen that many people (young and old) go to the tavern instead of to worship. He shared with his Elders that he would like to go there with a few of the Elders on a Saturday afternoon and spend time with the people in the tavern. He told us that the Elders did not like the idea at all because those who go will be associated with people who drink a lot etc. He was a bit discouraged, but as we chatted about the fact that the church exists for those very people who probably don't know Jesus, he was emboldened and will be going back to his congregation with the idea of simply going to sit and engage with the people in the tavern. Who knows where it could lead? We reminded ourselves that the tavern would probably be the place where Jesus would have gone.
As you live and move in the world, where do you think God is nudging you to bring his love? Who should you be engaging with and showing interest in, as a means to share God's grace?
With my love, Chris
=======
8 March 2020
Dear Friends,
Today, Thursday the 5th of March, I was privileged to attend and preach at the funeral of a friend and colleague of mine – the Rev Ndoda Mbuyisa. Ndoda was ordained into the Ministry 10 years before I was, in 1987. He served his first congregation for 14 years and then in the year 2000 he joined the SANDF as a Military Chaplain. He passed away on Friday morning at the age of 60 years. The semi military funeral service was extremely well attended; a testament to how well loved and respected Ndoda was.
By virtue of becoming the Minister of Midrand Presbyterian Church in 2004, I became a member of the eGoli Presbytery, which Ndoda had been part of since 1987. Although we had met before 2004, it was here in Gauteng that I got to know Ndoda better, and for reasons that I am still unsure of, Ndoda came to me early on in my time here in Midrand and offered me much needed encouragement and support as I tried to find my place and my voice. Which, I think, says more about him than it does me.
He would often speak kindly to me and tell me that I was doing a good job, especially when I was Moderator of the Presbytery. Perhaps it was because I tried my utmost to keep the meetings on time, which Ndoda appreciated a great deal ????. I came to learn that he believed that time was God's gift to us and so it must not be wasted nor disrespected.
When he spoke, it was passionately, about the Church and the gospel and the importance of protecting the integrity of both. He was deeply sensitive to matters of justice and would get very upset when someone was treated unfairly or unkindly.
I told the congregation today that I was unsure, though deeply honored, why, in his final days, he would ask me to preach at his funeral service? What did he have in mind for me to say? As I thought about this, I wondered whether it was perhaps that he knew that I would honour his very pragmatic and uncomplicated understanding of the Gospel? You see, Ndoda was a no-nonsense person who understood clearly the basic fact of our faith - that we are called to follow Jesus and serve his Church faithfully.
It is a simple (not simplistic) truth, and one I think we forget too easily – that we are called to follow Jesus and serve his Church, which means, to love Jesus and one another, and go into the world to proclaim God's Kingdom.
May God's comfort rest on Ndoda's family and loved ones.
With my love, Chris
=======
1 March 2020
Dear Friends,
We are now in the Christian season of Lent. This season of spiritual reflection and refreshing started on Wednesday and we marked the beginning with a moving Ash Wednesday worship service in the evening.
Lent is based on the 40 days Jesus fasted in the wilderness at the beginning of his ministry, which included his encounter with temptation, which we will be looking at today in worship. Sundays are not counted as part of the 40 days because they are days on which we celebrate the resurrection of Jesus, and so Lent is technically 46 days long.
As we acknowledge our sinfulness and our share in the pain of the world and how our selfish living has hurt our Lord, we are then able to return to God by re-focusing our attention on him and aligning our lives with Jesus. This may mean adjusting our lifestyles and letting God change our hearts. In this way, Lent becomes a period of spiritual growth.
Fasting, giving things up, is the traditional way of marking Lent, and is to be commended. However, there are other ways to make this time of year meaningful – it is all about being intentional in addressing different aspect of our lives. I shared the following with the congregation on Wednesday evening and thank one of my colleagues, Theo Groeneveld, in Pretoria for this idea.
What about focusing on our various relationship during Lent?
Spouses: Are you doing all you can to be a Christ-like spouse for your wife/husband? Do you pray for them?
Parents: Enjoy your children! Spend time with them. Pray for them and pray with them. How can you affirm them and encourage them?
Children: Take time to affirm your parents, show love, respect and gratitude. Listen to their wisdom and be forgiving of their mistakes.
Friendships: How can you be a good friend and nurture friendships that are life-giving and fulfilling?
Work: Are you being a witness to Jesus in the work place? Give God your stress and strain and pray for your colleagues.
Your Neighbourhood: Pray that God uses you to shine His light. This includes being of service to others (and therefore also to God).
Your environment: How can you look after the environment? Waste less. Pollute less. Consume less. Aim for sustainability, re-use and clean and heal your environment.
With my love, Chris
=======
23 Fenruary 2020
Dear Friends,
I start this love note to you with an IMPORTANT DISCLAIMER…????
What I am about to share with you is NOT an attempt to make light of or excuse or sugar coat in any way the unacceptable reality of load-shedding. We have all experienced, not only the inconvenience of periods of the day without electricity negatively affecting productivity and planned events, but also the serious consequences to the health and well being of many South Africans whose lives quite literally depend on electricity, such as those with respiratory illnesses who rely on oxygen machines at home or even the accidents on the roads as a result of traffic lights not working etc. We have every right to be angry and demand justice for those who have unashamedly stolen billions of Rands from public funds and who have hi-jacked SOE's over a period of several years through the appointment of incompetent managers and contractors. In Isaiah 61:8 we read, "For I, the LORD, love justice; I hate robbery and wrongdoing." And Proverbs 21:15 – "When justice is done, it brings joy to the righteous but terror to evildoers."
So, we find ourselves in a situation of having to rebuild institutions that have long functioned without trouble and to the benefit of our society. Indeed, I have firsthand knowledge of people who are working exceptionally hard to repair the damage done and so I understand the need for patience, even as we struggle with the reality of power cuts. In fact, even in our upset, I would encourage you to pray for those who are doing all they can to pick up the pieces and help us move forward as a country.
With that said, I want to share with you what happened on Sunday afternoon as a result of our power being cut at home due to load shedding. Like most people, we as a family were all frustrated with the power going off, but once we had made peace with the fact, we landed up doing things we probably would not have done if the power had remained on: I took a few black bags and walked through our neighbourhood picking up litter; Nathan went outside and played for a couple of hours with the neighbourhood kids; Keryn & the girls turned to the wonderful world of books. Then, once the sun had set, we gathered around the dinner table with a few candles and the board game, Cluedo. We have not played Cluedo together for a very long time. It was lovely to spend quality time together like this.
Of course, I do not welcome load shedding and I know that we don't need it to do any of the things I mention above, but it is interesting how load shedding has forced many of us to do some of the 'simpler' things in life, even connecting with one another again without the distractions of some of the modern conveniences and technologies. Perhaps the challenge will be to do this even once the PowerGrid is stable again ????.
With my love, Chris
=======
16 February 2020
Dear Friends,
On Tuesday evening Midchurch hosted the eGoli Presbytery Council Meeting, which is made up of all the Ministers and Commissioned Elders (2 per congregation) from the 31 congregations of the UPCSA in the Johannesburg area.
As I mentioned in my article in The Link, the hosting went very well. Then, with regards the meeting, besides the usual matters around administration, finances, mission, discipleship, social justice, ministry etc. there were a few really tough issues that required our attention, prayer and discernment. The meeting went on till late, from 18h00-22h30. At the end, with everyone rather tired, the Moderator asked the Rev Heidi Peterson, from our congregation in Florida (West Rand, not USA

) to close the meeting in prayer. She prayed a moving and beautiful prayer, drawing all we had shared in the meeting back to Jesus, the head of the Church. And then she ended by simply saying, "We love you Lord."
I was deeply moved! Indeed, we love the Lord Jesus. It is the reason we follow him and shape our lives around his Spirit's presence and leading. But, how easily we forget that our faith is firstly a response to Jesus, and a love for him and the world he died for? This is nothing new, it seems, because near the end of the first century, around 95AD, the disciple John received a series of visions which are recorded as the book of Revelation, and at the start of those visions he writes 7 letters, from Jesus, to 7 congregations in Asia Minor (Turkey). And, to the Christians in Ephesus, Jesus says, "I hold this against you: You have forsaken the love you had at first." What love did the Ephesians forget about, indeed, forsake?
Well, it was love for Jesus, love for others and love for the gospel of truth and grace that they and we are to bring to the world. "Don't forget your first love, the love you had at first for me and the world."
Friday was Valentine's Day, and love was in the air, although when I woke, I had forgotten what day it was! Thankfully, Keryn had too, and so I was off the hook

. Love, not only romantic love, is definitely worth celebrating. It is love that moved God to send his only son to the world to save us. And it is love that the Lord desires from us and for us. You will remember what Jesus asked Peter, three times, after Jesus' resurrection? "Peter, do you love me?"
Take a moment and answer that question for yourself. Do you love Jesus? Because he certainly loves you!
With all my love, Chris
=======
9 February 2020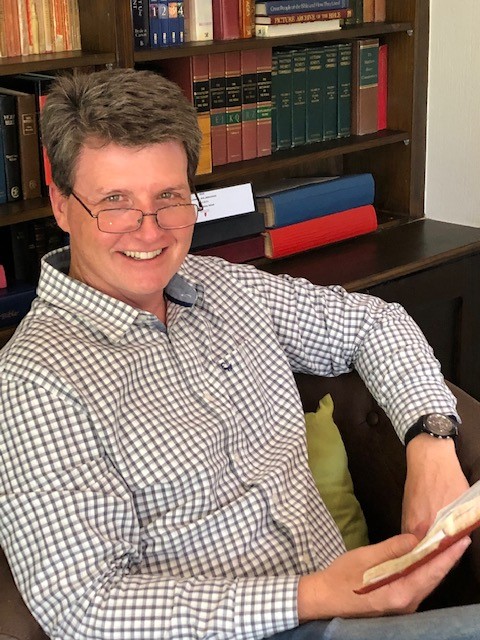 Dear Friends,
A few weeks ago, we started our current teaching series on Salvation's Story by taking a closer look at the source documents, so to speak, which is the bible.
If you were in worship that day you may recall me telling you about and showing you one of my most cherished bibles – A 'pocket' sized NIV that I bought in my first year of studies in 1993. I shared with you that I often use this bible when doing Pastoral visits, however, I bought that bible with much younger eyes and so I have recently been finding it a challenge to read the VERY VERY small print in the bible.
And so, the inevitable has happened – I have my first pair of reading glasses!!!
The reason I share this with you is not to show off my very fancy, off the shelf, makes me look intelligent, Clicks reading glasses, but to tell you what a revelation it was when I put them on for the first time. The app icons on my phone are so crisp and clear. I can now see the very texture of the page of the book I am reading, even the individual pixels on the computer screen as I type this. Although my eyes aren't 'that' bad

, it is obvious that I was not aware of the slow deterioration. I chose to get by and accept the slightly blurry text on the pages of books I read and on the computer screen etc. But, once I had put them on, it was obvious that they were overdue. I am still getting used to having the glasses around and forget to keep them with me, but perhaps I should get a few pairs to have one at the office and one at home and one in the loo (is that an overshare?).
I think sometimes something similar can happen with our faith in Jesus. Like all relationships we can take our walk with God for granted. Before we know it, we are not 'feeling' close to the Lord anymore and getting by with an occasional prayer popped off to the 'big guy' and reading a bible verse pic on Facebook or Instagram, convincing ourselves that it is enough and it is OK. But, then we have a fresh encounter with Jesus. Perhaps it happens during worship on a Sunday or in a moment of reflection on something beautiful or through a song or something we read, and we realise what we have been missing - that our faith vision has become blurry - and we have accepted second best in our relationship with the Lord. Don't accept second best. Spend time with Jesus in prayer and worship and reflection. Recapture a crisp and clear connection with the One who LOVES you and wants to renew and refresh your life.
With my love, Chris
=======
2 February 2020
Dear Friends,
Pieridae.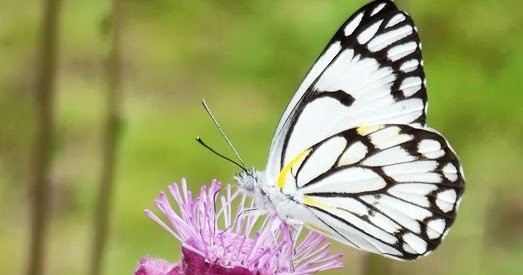 Or more commonly known as the brown veined white butterfly. I am sure you have noticed this week, everywhere you go, that you see hundreds of these little butterflies! In fact, there are quite literally millions of them busy with their annual migration from the Karoo to the northern parts of KZN and Mozambique.
They have been spotted in the Northern Cape, Free State, Gauteng and, of course, KZN. Apparently, they take about 4 days to do the trip. They don't all leave at once, hence the extended sightings of the beautiful creatures these past days. Etymologists tell us that this migration is very important to the ecosystems that the butterflies fly over because they serve as food for other insects and birds. It does not seem like a very noble reason to exist (as food for others), but a necessary one, nonetheless. And a beautiful sight for us to behold.
Last week, as we started telling Salvation's Story with the beginning – God creating – we noted that God's purpose in creating was for us to experience relationship – with him, others, ourselves and with all of creation. But, it was also pointed out that God's intention in creating was simply to display his glory through the beauty, expanse and wonder that is the universe and nature. And, please note, that we are the only creatures God created that have the capacity/ability to recognize this beauty and expanse and wonder of creation. This is because we are created in his image.
The migration of the brown veined white butterfly is one of those creation moments that should leave you and I silenced in awe and wonder! This is God 'showing off' a bit

. Celebrating the majesty of his creation.
Psalm 19:1 helps us… "The heavens declare the glory of God; the skies proclaim the work of his hands."
And that's why the Psalmist can write, poetically – "Let the heavens rejoice, let the earth be glad; let the sea resound, and all that is in it. 12 Let the fields be jubilant, and everything in them; let all the trees of the forest sing for joy." Psalm 96:11,12
Will you take a moment to rejoice with me at the wonder of God's creating power and imagination, and give thanks for our ability to be able to see and recognize beauty.
With all my love, Chris
=======
26 January 2020
Dear Friends,
If you were in worship on Christmas day you may recall me mentioning my Good News Journal. A friend and I have given each other journals to use to record the Good News of God's Kingdom breaking into our every day lives. The truth is that there are many conversations, encounters, moments, events and incidents that display and witness to God's Good News all the time, but we often overlook them or do not celebrate them as signs of God's presence because we are quickly overcome by the many troubles and challenges of life. So, the journal helps me pay better attention to God's hand at work around me.
With that said, I thought I would share a Good News moment from Monday this week.
I was at Pick n Pay doing weekly shopping and started unpacking the trolley at the till. I grabbed a bottle of milk which dislodged the bottle of wine from its spot in the trolley and it settled on the bottom of the trolley with a thud that shattered the bottle. The wine went all over the trolley and the floor and my foot. It was a mess!! Of course, I felt embarrassed and foolish, made worse by the fact that it was a bottle of wine instead of mayonnaise or something similar (why is it that there is still a little bit of shame in buying a bottle of wine? It is so silly. I only need it to have a glass after the Elder have driven me mad ????)
Anyway, the wine was all over the place and I turned to the cashier, whose name was Jabulile, and she was a healing balm to my embarrassment. She was gracious and kind, immediately putting me at ease by making a joke about getting a straw so that she and I could quickly suck some off the floor. Then she called for someone to come and mop up my mess. She then told me not to worry and I should go and get a replacement bottle, which I did, leaving behind a trail of wine footprints down the aisle. I returned to her telling me that in her culture when one spilt alcohol it meant that you would be getting drunk. I laughed and told her that the day was still young ????.
The cashier next to us than piped up that she would need to close her till after the customer she was serving because the fumes were making her dizzy ????. And so it went as I continued unpacking my trolley. Another lady arrived to clean up my mess and did it without complaint. I left with a friendly goodbye to Jabulile, so very thankful for her grace and kindness. Or, was it God's grace and kindness through her?
It seems like a small moment, yet a significant one… a reminder that God's Kingdom Values of goodness, kindness, mercy, compassion etc. are present in the world… all signs of his life amongst us.
=======
19 January 2020
Dear Friends,
While on leave in Cape Town over the New Year period, myself, Keryn and the children did a few touristy things which included a drive through to Franschhoek for a visit to one of the many beautiful wine farms in the area. Along the way we passed some lavender fields and I told my sister, who was with us, about a beautiful painting that one of our members had given to us which she has told me was inspired by a lavender farm in the Franschhoek region.
Below is a pic of the painting that hangs at the top of our staircase at home. One of my children, who shall remain nameless ????, asked me what painting I was talking about? I said it was the one hanging at the top of the staircase. To which I received the reply, "Is it a painting of a lavender field? Are you sure?" "Yes!", I said. "How do you not know the painting? You pass it a number of times every day of your life!" "Oh," was the reply, "I suppose I have gotten used it and not noticed it for a while."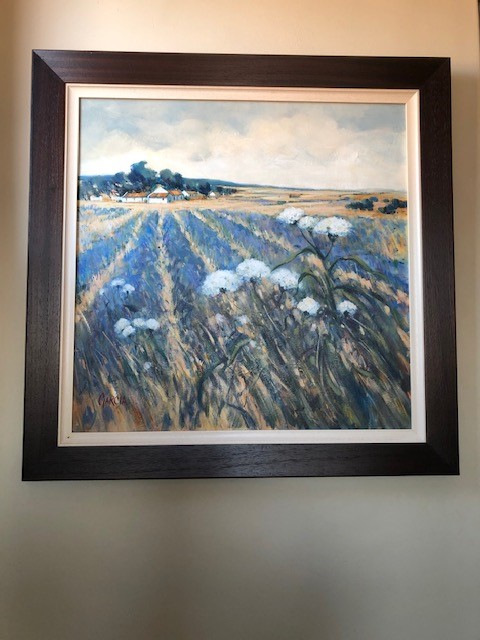 At that moment I knew that I had to share this with you because it speaks so poignantly to what can be termed our daily 'blindness' to the things of God. We can grow so accustomed to God's many gracious blessings in our lives and in this world that we simply do not see it anymore. Or, equally, we become so consumed by the tasks and agendas before us that we miss God's presence as he breaks into our lives with his love and mercy.
This is one of the reasons why Jesus has given us his Holy Spirit. In John's Gospel Jesus is quoted as saying, "The Advocate, the Holy Spirit, whom the Father will send in my name, will teach you all things and will remind you of everything I have said to you." It seems that Jesus knew that we would need reminding, because we tend to forget so easily.
Whether our amnesia or blindness is brought on by distraction, indifference or by focusing too much on the troubles of this world, it does not change the fact (the truth) that all around us is evidence of God's presence and his Holy Spirit at work bringing new hope and salvation.
So, PAY ATTENTION!! Don't miss the beauty of his holiness in your life and the lives of those around you. ????
With all my love, Chris
***********************************************
15 December 2019
Dear Friends,
Unwrap the Gifts – Part 2 of 3
In my note to you last week I mentioned a little booklet I received from CUM Books called, The Message of Christmas.
The publishers share a number of passages of scripture from The Message, Eugene Peterson's fresh and personal Scripture translation, which prophecy the coming Messiah and then tell of Jesus birth and life.
The booklet ends with a lovely reflection in which the authors identify 6 gifts that come with the gift of Jesus, gifts that we are called to unwrap and claim as our own before passing them on to others. Last week I shared two of the gifts with you; PEACE and HOPE. This week it is the gifts of LOVE and JOY.
LOVE:
Above all else, Christmas is about God's unconditional love which is demonstrated to us by him sending his Son, Jesus, to be born as a baby and live among us so as to reveal the character and purpose of God, and also to die and be raised again in so doing defeating the power of sin and death. As we receive Gods' love this Christmas, we are transformed by it and then called to share that love with others in this broken and hurting world we live in. Love received is only half the story. For the full story, love must be shared! See: John 3:16-18, 1 John 4:7-12, 1 Cor 13:1-13.
JOY:
When the angels announced the birth of Jesus, i.e. the good news of the arrival of God's salvation for ALL the world, they said that this news came with joy. Why? Because it brought the assurance that God has a plan to save and heal and restore the world which brings the comfort that he can be trusted, no matter our circumstances. Joy is deeper than happiness, because it rests on hope (one of the gifts we unwrapped last week). And hope rests on the certain promises of God, so tangible displayed in the birth of Jesus. See: Habakkuk 3:17-19, Phil 4:4-7, 1 Peter 4:7-11.
May you experience LOVE and JOY this Christmas time.
With all my love, Chris
=======
8 December 2019
Dear Friends,
Unwrap the Gifts – Part 1 of 3
On Tuesday I popped into CUM Books and when leaving I was handed a lovely little booklet called, The Message of Christmas. The publishers make the following comment about the 30 page booklet:
"More than two thousand years ago, the universe shook at the birth of one ordinary, yet extraordinary child. That miraculous birth unfolded in a stunning paradox: while humanity routinely over looked him, the entire cosmos celebrated his arrival.
Centuries earlier, the Hebrews had looked and longed for a Saviour, but they didn't expect a humble king like Jesus. Today, believers worldwide cherish his life, death, and resurrection, and they eagerly anticipate his return.
The Message of Christmas draws together startling ancient prophecies and rich biographical accounts. Drawn from The Message, Eugene Peterson's fresh, personal Scripture translation, The Message of Christmas leads you to an intimate and life-impacting rendezvous with the One who is the very message of Christmas."
After sharing a number of passages of scripture which prophecy the coming Messiah and then tell of his birth and life, the booklet ends with a lovely reflection in which the authors identify 6 gifts that come with the gift of Jesus, gifts that we are called to unwrap and claim as our own before passing them on to others. Over the next three weeks (the final three Sundays in Advent) I would like to share two of the gifts each week with you in this love note.
PEACE:
The prophet Isaiah spoke of the Messiah as the Prince of Peace or the Prince of Wholeness. Peace and Wholeness is one of the gifts of Christmas. In a world filled with conflict, anxiety, loneliness and suffering, so many of us long for peace – to be complete and whole. Jesus offers us personal wholeness and peace with God and his people through his first advent or coming into the world, and we also long for the ultimate eternal wholeness he will bring when he comes again in glory. See: Matt 11:27-30, John 14:25-27 & Col 3:15-17
HOPE:
We often lose hope! The coming of Jesus into this world that seems hopeless, offers us a clear and real hope that all that is wrong or broken in the world will be healed and made right again. As followers of Jesus we live with this hope and offer it to others, for today and for an eternal life to come. See: Heb 12:1-13, James 1:2-18, 1 Peter 4:12-19.
With all my love, Chris
=======
1 December 2019
Dear Friends,
Two thoughts to share with you that seem unrelated and yet speak to some of the core 'business' of being a community of believers in God's Kingdom.
The first comes from a lunch I was sharing with some friends and colleagues in Somerset West on Wednesday for the AGM of BethelSA. We were chatting about what it means to be a missional church, as we are trying to be at Midchurch, i.e. where church is not something we DO on Sundays (that's worship), but something we all ARE everyday of the week wherever we find ourselves, each living as missionaries in the world. One of the comments often made in being a missional church is that it is not about the numbers - it is quality over quantity J. Yes, there is truth in that because we are not chasing the numbers. However, one of my colleagues recounted a comment he heard in a conference in the USA recently where the speaker, who was a missional church person, said, "True, it is not about the numbers, but if I take my family with three kids to Disney World and at the end of the day get to our car with only two of the three children, I don't say to my wife, 'Don't worry, it is not about the numbers, we still have two of them.'" Although we don't chase the numbers trying to out entertain the world in an effort to attract as many people as we can, we must not forget that there are millions out there who are 'lost'. They do not know Jesus as their Saviour and they don't know the blessing of being part of his people – the church. And so we must not hold back from inviting people to know Jesus and know his church. We must take our task of being missionaries seriously and share his love unashamedly and unapologetically so that God's Kingdom will grow and the ministry amongst the people of the world will grow.
The second matter has to do with our 2020 budget. At Session on Tuesday evening we had a thorough and in depth discussion regarding the financial outlook for 2020. Next week Colin (Treasurer) and I will write to you about it, but today I want to share a prayer posted on the Midchurch Prayer Circle WhatsApp group about it – "We have many responsibilities and desires in ministry here at Midchurch. Without financial support it is difficult to dream. Visions for growth dry up and all sorts of obstacles spring into being. Pray for faithful and generous giving, for excellent financial controls and for the opening of the floodgates of heaven to bless the community here in this place, so as to affect the world around us, all and only to the glory of God."
As Jesus forms us into his community of love and grace here at Midchurch, we pray to be mobilized for ministry, both in terms of serving the 'lost' in the world everyday wherever we are, and in terms of financial resources that can open new possibilities for us to see the love and reign of God renew the world (vision@midchurch).
With my love, Chris
=======
24 November 2019
Dear Friends,
You may not believe this, but ministers are human beings too and just like 'ordinary' believers, we also experience moments of despair, anxiety and doubt (though the moments are very brief J). Wednesday morning started as one of those 'down' days for me and as I drove to Kempton Park for a set of meetings at the Central Office of the UPCSA that would last well into the afternoon, I was experiencing a bout of the blues. As I prayed through it with the Lord, I felt a nudge to play some worship music. I scrolled through the options available and chose a worship album I had not listened to for some time – Celtic Worship (live from Ireland) and the very first song ministered to me immediately. The song is based of Isaiah 61:3 and the opening verse is…
"Put on the garments of praise
For the spirit of heaviness
Let the oil of gladness flow down
From Your throne
Put on the garments of praise
For the spirit of heaviness
Your joy is my strength alone
My strength alone."
As I drove to my meetings and sang along in praise to the Lord I felt the despair lift as I was drawn back to the source of all things, my Saviour and Lord.
Fast forward to Friday morning where our early morning Men's Group is busy doing a study on the Psalms. And what should the Psalm be, but Psalm 73 in which the Psalmist describes his despair and anguish in the face of the seeming unfairness of life, i.e. that the rich and powerful have it easy while the righteous (good) continue to suffer and struggle. But then in verse 17 of the Psalm something changes for the Psalmist. There is a shift in his heart and mind as he finds himself trusting in the Lord once again. What is the cause of the shift? Well, we are told that he enters the sanctuary to worship God. While in worship his life is realigned with God's and he is encouraged and finds peace once again. As we discussed this I shared my Wednesday experience with the group and the related passage in Isaiah, pointing out how through worship our despair and heaviness is replaced with a garment of praise. On countless occasions I have experienced this blessing when worshipping God. Why? Because in worship we focus on the Lord and our relationship with him and our hearts find their rest once again.
Friends, worship is not a 'religious activity' through which we fulfill some or other religious obligation. Worship is life giving because through prayer and song and fellowship and the Word we find our lives connecting with our Creator and Father again. The result is, as Jesus said, a peace the world cannot give. See you in worship!
With my love, Chris
=======
17 November 2019
Dear Friends,
It is too much of a coincidence to be ignored. I am convinced that it is a 'God-incidence' and so it must be shared with you, for you and the Lord Jesus to decide what it means for your life and faith?
These are the four incidents that has led to this love note…
The first was on Tuesday evening while I attended a meeting of our Presbytery's Executive Commission. The Moderator, the Rev Thembinkosi Nopapaza, opened the meeting by reading John 8:12 – "Jesus spoke again to the people, "I am the light of the world. Whoever follows me will never walk in darkness, but will have the light of life." Thembinkosi reminded us that we are bearers of Jesus' light in the world and he suggested five ways in which we sometimes cover or hide that light in us.
Then on Wednesday I attended a funeral service for Lily Parr, a member at Saints Presbyterian Church, Centurion, but also a member of our Midchurch Centurion Home Group. How did her son, Jonathan start his moving eulogy of his mom? By quoting John 8:12. Well, God had my attention.
Then, later in that same service, we sang the familiar song, 'Here I am, Lord', and the first verse contains these lines… "All who dwell in darkness now, my hand will save. Who will bear my light to them?" Who, indeed?
Then, the final moment that led to this letter about Jesus' light came today as I was preparing the Order of Worship for our Carols by Candlelight service on the 8th of December (which, BTW, is going to a FANTASTIC time of worship J) and the second song we will be singing, "Light of the world, you stepped down into darkness, opened my eyes and let me see…"
There is so much to be said about the Light of Jesus shining in the darkness of this world, but I want to mention the fives ways that can cause Jesus' light in us to burn low…
1) Being quiet, when we should speak out against racism, sexism, hatred etc.
2) Going along with the crowd instead of standing for the truth
3) The light in us being dimmed due to sin in our lives
4) Ignoring the needs of others – the vulnerable and the weak
5) Suffering (pain and bitterness) often makes it hard to shine the light of Jesus.
Thembinkos then reminded us that the only remedy to the things that dim Jesus' light in us, is to rest in Jesus. To return to him and find healing for our pain, strength in our convictions and forgiveness for our sins.
It is true that there is much darkness around, but all the darkness of the universe cannot snuff out the light of even one candle! You and I are called to carry the light of Jesus into the world. We are children of the light, not the darkness, so go and SHINE BRIGHTLY!
With my love, Chris
=======
10 November 2019
Dear Friends,
On Tuesday morning, as I was packing away the washed dishes, I felt a bit of pain in the joints in my right hand. I did not think too much of it, but as the day progressed I became more and more aware of it as I went about my days activities. I then begun to wonder whether it was not some kind of early onset arthritis, or something similar! By the evening Out Reach meeting, my hand was really quite sore. Thankfully, it was an invigorating meeting and so I did not give further thought to it

. But, once home and quietening down for the day, I started to grow concerned about my right hand again until,…… I remembered, with great relief, that on Monday afternoon I had spent about an hour in the garden trimming some spring growth on a few trees and rose bushes using a rather blunt pruning shears, and I recalled how I had to use quite a bit of 'elbow grease' or hand strength to cut some of the branches and rose stems, hence the achy hand on Tuesday J. So, no early onset anything, just a bit of unusual use of my tendons and muscles in my right hand.
Which, as you know from my letters, got be thinking….
Truth be told, the reason for the painful hand was not really a blunting pruning shears, but rather the fact that I was out of practice in using my hand in this way. I guarantee you, if I had asked Victor Msibi, the Church Gardener, to cut those branches and stems he would have suffered no ill effects because his hands are a lot stronger than mine due to his regular gardening.
If we do not use the abilities God has given us, we will lose them and become of no use to the Lord. Like anything, if you do not practice, you quickly lose the skill or, at the very least, the level of excellence in that skill. Jesus told a story about this in Matt 25 about three people who were given different talents and to those who exercised their talents, more was given, but to the guy who did not use his talent, he lost it.
In Eph 2 Paul reminds us that we are God's handiwork, created to do good works. And in 1 Peter 4, Peter says, "Each of you should use whatever gift you have received to serve others." And in Matt 5 Jesus tells us that we are the light of the world, but it is no good if we hide that light (by not using it) under a bowl because the light will go out.
The Holy Spirit has blessed you with gifts, talents, abilities, passions and skills that you can use to be a blessing to others and so further the work and life of God's Kingdom. However, when we don't practice our serving, it becomes harder and harder to do, until it is too much of an effort to use the gifts God has given us. But, if we keep practicing and flexing our serving muscles, it becomes easier and easier, almost without effort, and we discover the great joy of making a difference for God in the lives of others. Don't bury or hide or stop exercising the gifts God has blessed you with, even if it may take a bit of effort to get going again

.
With all my love, Chris
=======
3 November 2019
Dear Friends,
This morning (Thursday) I attended the quarterly Board Meeting of the Christian Development Trust Foundation. I serve as a Director on behalf of the UPCSA. As I have shared with you before, the CDT Foundation is an interdenominational NPC that primarily offers loans to congregations for building projects. However, we have our fingers in a number of other pies, so to speak, on issues ranging from land reform to youth unemployment and ethical investing. The Board and Advisory Council consists of representatives from most of the mainline churches in RSA and as we started the meeting we had a general discussion regarding some of the pressing matters facing South African Society today, and the role that Christians play in addressing the various pressing social issues. At one point, Ds Classen, from the Dutch Reformed Church, commented by saying, "We must not forget one of our primary tasks as the church in the face of the many challenges plaguing society. That we proclaim God's hope into the world, and as leaders in the Church in RSA we must also have that hope within ourselves."
It was a sober reminder to us all, because how easy it is for us (followers of Jesus) to be overwhelmed by the circumstances we face personally and collectively as a nation and then feel … hopeless! No! We are a people of hope, who trust in a faithful God; who believe that the power of evil has been overcome, that God is busy renewing the world (one life at a time) and, most importantly, love always wins!!
What did Paul say at the conclusion of that famous chapter in his letter to the Corinthian Christians? 'Now these three remain: faith, HOPE and love.' 1 Cor 13:13.
When all has been said and done… at the end of the day… the conclusion of the matter of 'life, the universe and everything else' (to quote Douglas Adams) is… faith, hope and love.
Because God's mercies are new every morning (Lamentations 3:22) we are filled with hope. Now, hope is NOT optimism. Hope is the certain expectation of God overcoming all things in my life and this world because of his faithfulness. He is the LORD of all history and time. You CAN trust him.
And, remember that hope is not LOST… as if you have no say in whether you have hope or not. Hope is…. GIVEN UP. So, don't give up the hope that God's Spirit has sown into your heart! Don't believe the lie that all is lost! It is not! Jesus has overcome all things and our hope lies in him. If you are feeling hopeless, I invite you to ask God, in prayer, to fill you with his hope again. To trust in him and lay at his feet (under his authority) all your worries and troubles. You can trust him

.
With all my love, Chris
=======
27 October 2019
Dear Friends,
I always find such delight in the Lord when he takes an ordinary everyday moment and uses it to remind me of the gospel. On Tuesday morning I was driving Nathan to school and took note of something that I see almost every day, but which has typically gone unnoticed. His school is situated in Midstream Estates, just north of Randjesfontein, and running, basically, right through the middle of this large residential development is a huge Eskom servitude along which run multiple power lines – 5 pylons and 15 cables abreast!! – and as we crossed the servitude I pointed out the pylons and cables and commented to him, "It is crazy to think that these power lines run right through here and we don't really take note of it and the power in them." His response was, "Yes, they look so harmless, but if you touch them you will die…. Instantly!" We went on to chat a bit about safety around Eskom power lines and how surreal it is to consider that those power lines are so close to us as we go about our daily 'business' unaware of the danger, because as long as we stay away from them, we are safe.
Immediately, I could see the illustration that the Lord was showing me

.
Although Jesus' death and resurrection has overcome the power of sin, death and evil, we would be fooling ourselves to think that there is no sin and evil in the world anymore. Just like those dangerous power lines running through a residential estate where folk are going about their ordinary and everyday lives, the scriptures remind us that sin and evil are present in the world and when we get too close, like touching those powerlines, we should not be surprised at the destructive consequences. The reason that Jesus calls us to walk away from sin and destructive habits and harmful relationships is precisely because of the hurt and pain that they cause to us and others and, of course, our relationship with him.
However, just like those powerlines are a safe distance from us because of the pylons, so too we must rest assured that in Jesus we can resist sin and evil and stand firm in our faith knowing that we are safe with him, in this life and the next. But, if we should venture too close and allow sin and evil to get a foothold in our lives, I am pleased to remind you that, unlike the certain death when touching those powerlines, when it comes to 'touching' sin, we are able to return to the Lord and be forgiven and restored, because of his love and mercy – grace!
What 'powerlines' do you need to stay away from in your life? With the help of God's Holy Spirit, you CAN stay a safe distance.
With my love, Chris
=======
20 October 2019
Dear Friends,
NOBODY, BUT JESUS
One of our members posted a video of a song on our PrayerCircle@Midchurch WhatsApp group that I want to share with you. You may recall that a few months ago I did something similar with the Casting Crowns Song – Glorious Day - which we now sing in worship (most recently this past Sunday). Well, this song in question also happens to be a Casting Crowns song and Nicola has told me that the teens sing it at Youth

. It is called Nobody. If you want to listen to it, simply go to YouTube and search for 'Nobody by Casting Crowns'.
Please read the words, and may this be the prayer that each of us prays this week…
Why You ever chose me
Has always been a mystery
All my life, I've been told I belong
At the end of a line
With all the other Not-Quites
With all the Never-Get-It-Rights
But it turns out they are the ones You were looking for
All this time
'Cause I'm just a nobody trying to tell everybody
All about Somebody who saved my soul
Ever since You rescued me, You gave my heart a song to sing
I'm living for the world to see nobody but Jesus
I'm living for the world to see nobody but Jesus
Moses had stage fright
And David brought a rock to a sword fight
You picked twelve outsiders nobody would've chosen
And You changed the world
Well, the moral of the story is
Everybody's got a purpose
So when I hear that devil start talking to me, saying
"Who do you think you are?" I say
I'm just a nobody trying to tell everybody
All about Somebody who saved my soul
Ever since You rescued me, You gave my heart a song to sing
I'm living for the world to see nobody but Jesus
I'm living for the world to see nobody but Jesus
With my love,
Chris
=======
13 October 2019
Dear Friends,
Paul ends his seminal theological treatise on the Gospel in the New Testament, commonly referred to as the Letter to the Romans, with a final chapter in which he shares personal greetings with the Christians in Rome and commends to them a whole list of people who have faithfully served Jesus and the church in Rome. Interestingly, considering our current teaching series, 'Heroes Unusual', 9 of the names mentioned are women.
In verse 3 & 4 he writes, "Greet Priscilla and Aquila, my CO-WORKERS in Christ Jesus. They risked their lives for me. Not only I but all the churches are grateful to them."
I have reminded you on many occasions that we at Midchurch are blessed with, quite literally, 100's of co-workers in Christ who serve the Lord Jesus in and through the ministry of this congregation. And I thank God for each and every one of you! I would, in particular, like to express my deep gratitude to the Lord for those co-workers who serve as staff members of Midchurch.
Over the past month or so, the Session has undertaken a review of all the Ministry House staff positions at Midchurch. The intention of this process has been to assess job/ministry descriptions to ensure that the work being undertaken is in line with expectations, both from the side of Session and the staff members.
As we have met with the various 'co-workers in Christ', I have been left with an overwhelming sense of gratitude for the passion, excellence, giftedness and faithfulness of our Midchurch staff. You can be exceptionally proud of the caliber of people who are employed by our congregation. And although they are employed to fulfill certain requirements, ALL of them go above and beyond what is expected and give extra time and effort to ministry here at Midchurch.
So, could I ask you, the next time you see any of these folk, to shake their hand or give them a hug and say, thank you?
Pam Louw - Church Finance and Administration Manager
Elwyn Hekman – Church Administrator
Nicola Dickason – Youth Pastor
Keryn Judelsohn – KidsChurch Pastor & Communications Manager
Regina Sintu – Church Property Custodian
Victor Msibi – Gardener
Themba Ndlovu – Gardener
"Greet my CO-WORKERS in Christ Jesus. Not only I but all the churches are grateful to them."
With my love, Chris
=======
29 September 2019
Dear Friends,
In Luke 10:2 Jesus gives his disciples a sober reminder of the task before them as his followers, "He told them, 'The harvest is plentiful, but the workers are few. Ask the Lord of the harvest, therefore, to send out workers into his harvest field.'"
2000 years later and we see that the harvest is still plentiful! There are so many people in our neighbourhoods, cities and world who have not yet experienced the transforming power of Jesus' Holy Spirit in their lives. The fullness of life or abundance of life Jesus tells us he came to give to all (John 10:10) is something that millions around the world have not yet received.
And, although there is a still a need for many more workers, I am thankful that 20 new workers will be joining God's Kingdom here at Midchurch as we welcome them into membership today. It is always a joy to receive new partners in Christ as members and to see how the Lord will shape and equip them to serve alongside the rest of us in gathering the harvest

.
This is the second 'crop' of new workers this year and I thank God that they have answered his call on their lives to be part of the community and ministry here at Midchurch.
If I may remind you of our vision – "To see the love and reign of God renew the world". In other words, to see the harvest gathered and lives healed and restored for God's glory. We do this by being a community of God's people who SERVE the world's needs, CALL people into a living relationship with Jesus Christ, FROM believers into disciples and GO into the world to proclaim God's kingdom.
Please make every effort to welcome these new members, new partners, new workers, new worshippers and to encourage one another in our service of God and the world.
There is no doubt that we are living through very challenging times as a nation and the world, but we do not despair because there is a mission or purpose before us which transcends the times and gives us great hope and courage in the present… to join with God in his saving work of renewing the world.
So, welcome to our new members; you are becoming part of a grand adventure that spans all of history and I am pleased to share in it with you.
With all my love, Chris
=======
22 September 2019
Dear Friends,
Last week Emma came to Keryn and I to discuss what she would wear to the Heritage Day celebrations at her school today? Learners have been encouraged to wear something that celebrates their culture heritage. For many South Africans this is a pretty easy thing to do, but what is Emma's cultural dress? For that matter, what is my cultural or traditional dress? What would I wear? This white English speaking South Africa who loves braai and biltong (and rugby – Go Bokke!)- what is my cultural heritage?
I have shared with you before that on my paternal side, my Grandfather traced the Judelsohn ancestors back to Prussia in the early 1800's and then to Lithuania before that. But, I am not Lithuanian nor Prussian. I am South African. And as I reflect on that I realise that what makes South Africans South Africans is that we belong to a society that is defined by our diversity. There is no one South African Culture – and that is what makes us South African! And instead of our diversity being a tool to divide the citizens of this country, it should be a rallying point of celebration. So, when I proudly wave a South African flag, I am not claiming that my family heritage (whatever that may be) is the defining heritage of this country, but simply one of many. And that is a good thing. And that is what it means to be South African.
It is a deep sadness for me that diversity and differences between the peoples of this land continue to be used to stereotype, generalise and divide. It does not have to be that way. I love this country. I love the many faces that make up the population of this people. I love the beauty of the landscape, also richly diverse (isn't that interesting), and I truly believe that when we can find a way both to affirm our cultural differences and embrace them, we will be able to show the world how to forge a multicultural nation. We do not have to retreat into our cultural laagers and define ourselves by our differences.
I also believe that the key to that dream – that 'rainbow' nation – lies in the Church. You see, for me, and for many millions of people in this land there is a deeper belonging that allows for both a celebration of our cultural diversity and a shared identity that transcends differences in culture, language, custom.
What is it? It is our faith in Jesus and our belonging to his kingdom. In Rev 7 John describes a vivid and stirring vision of heaven, and notice that our diversity is still evident, even though we are united in praise:
"After this I looked, and there before me was a great multitude that no one could count, from every nation, tribe, people and language, standing before the throne and before the Lamb. They cried out in a loud voice: "Salvation belongs to our God, who sits on the throne, and to the Lamb."
May you have a blessed Heritage Day!
With my love, Chris
=======
16 September 2019
Dear Friends,
How does one make a positive difference for the Kingdom and the world that God loves so much, he would send his only son to die for it?
The reason I ask is because, in the challenging times we live in where hatred, violence, selfishness and greed seem to dominate our local and international headlines, it would be easy to think that you and I can do very little to bring the kind of change we would hope to see in society.
We have seen protest marches and speeches from our President, and statements from various NGO's and faith groups, including our own church. We have all shaken our heads at the state of brokenness in many spheres of our shared life as South Africans and then thrown our hands up in the air in despair wondering what else could go wrong? Some have decided that the best option is to leave… leave the conversation… leave the neighourhood… leave the city… leave the country…
But, then this morning I heard something that reminded me of how Jesus made a difference, his MO, as it were. One of our members, having heard that another member is going through a rough time at the moment, decided to make a meal for him as a simple act of kindness and encouragement.
Jesus also lived in tumultuous times! There were regular state (Roman) sponsored killings of protesters and opponents to Caesar, suppression of freedoms we take for granted and the abuse of the poor and vulnerable by the rich and powerful. What did Jesus do? He went about restoring people's humanity and dignity through simple acts of kindness and love. He ignored the social conventions that separated people – clean from the unclean, healthy from the sick, Jew from Gentile, men from women, adults from children - and showed everyone a different way to live. The way of love, respect and grace.
Then, after his resurrection and ascension, his disciples, empowered and equipped by his Holy Spirit, began to follow his example of welcoming and loving the stranger and the broken hearted and the unwell, until small communities of these saved people began to form. Then, they, in turn, did the same thing to those around them – small acts of kindness and love that opened the hearts of people to the saving love of Jesus – until the believers became so numerous in a town or region that the very society was transformed.
Ultimately, what will heal and transform our neighbourhood, city, country and world are the small acts of kindness and love that you and I offer to those around us. Clothed in Jesus' compassion and kindness (Col 3:12) you and I will change the world with God, and his Kingdom will come on earth as it is in heaven. Don't throw your hands up in despair, rather get them working to show love and kindness to the next person you meet.
With my love, Chris
=======
8 September 2019
Dear Friends,
"For the Lord your God is God of gods and Lord of lords, the great God, mighty and awesome, who shows no partiality. He defends the cause of the orphans and the widow, and loves the foreigner residing among you, giving them food and clothing. And you are to love those who are foreigners…" Deut 10:18,19
Is there anything more to be said? Defend the cause of children (orphans) and women (widows) and love foreigners.
This week has seen the pressing social evils of xenophobia, gender based violence and abuse of children highlighted for all the world (and ourselves) to see. These dark little secrets of our Rainbow Nation!
As people of an impartial God who calls us to love, respect, care and help all people irrespective of their race, nationality, age or gender ('It is by your love for on another that they will know that you are my disciples' – John 13:35), it is a shame upon us as a, so called, Christian nation to allow attitudes to persist in our homes and amongst our circle of friends that perpetuate stereotypes and frame our view of the world as 'us' vs 'them' – whoever 'them' may be.
God's Kingdom, the one Jesus came to proclaim (Luke 4:43), knows no boundaries of nation or culture, and celebrates that men and women are created equal by God in his image (Gen 1:27, Gal 3:28), and where children are embraced and blessed (Luke 18:15-17).
If there is one place where ALL people (from all nations) should be safe and feel welcomed and respected, it is the Church.
If there is one place where women should be safe and feel welcomed and respected, it is the Church.
If there is one place where children should be safe and feel welcomed and respected, it is the Church.
It is a shame upon us who follow Jesus that the Church has often not been that place at all! We must repent of our own attitudes and actions that have allowed this to continue in our country and in our homes and in our churches.
I encourage you to continue praying for our nation (God is not deaf to our cries) and also do all you can to counter the greed, hatred and violence of our times by showing and speaking generosity, love and compassion. Always remember that love is stronger than hatred, and that God has indeed overcome evil and we are part of his renewing work in this world. AMEN
With my love, Chris
=======
1 September 2019
Dear Friends,
Do you struggle with prayer like I do? I often find my mind filling with a 1000 thoughts as I settle down to pray. Distractions swirl around me and I can land up forgetting the one thing I set out to do: to pray. On a few occasions I have even dozed off while praying. Am I the only one?
You see, the problem is not that we don't pray. We do pray. On tearstained pillows, we pray. At the sight of a glorious sunrise, we pray. When the lump is malignant, we pray. When the money runs out before the months does, we pray. When the unborn baby hasn't kicked in a while, we pray. When we want to stay sober, we pray. When we are afraid, we pray.
And, yet, we find prayer – deep, strong, fervent prayer – a struggle. Read the bible and you will see that we are not the only ones who have struggled. When one of Jesus' disciples asked him to teach them to pray (Luke 11), none of the others objected and walked away, saying, "I have prayer all worked out, I don't need to hear Jesus on this one." No, they stayed and listened and … watched. Jesus was a person of prayer. He prayed before he ate, he prayed for the sick, he prayed with thanks, he prayed with tears, he prayed in the desert, the cemetery, the city and the garden. We are told that he often went to a solitary place to pray. And, in answer to the question from the disciples, Jesus did not give them a lecture on prayer. He gave them a quotable, repeatable and portable prayer – The Lord's Prayer.
Mac Lucado has written a brief book on prayer and in it he suggests a very simple and easy to remember 'pocket-size' prayer which has all the essentials of prayer. "Father, you are good. I need help – heal me and forgive me. They need help. Thank you. In Jesus' name, AMEN."
'You are good' = Praise and Adoration of God
'I need help – heal & forgive' = Supplication and Confession
'They need help' = Intercession
'Thank you' = Thanksgiving.
He suggests using this prayer all day – Praising God in the morning, praying for yourself as you head off for your day's business, praying for others as you interact with people during the course of the day and then ending the day by giving thanks for the day and God's many graces in your life.
I like it

. Simple, yet profound. Prayer is basically a heartfelt conversation between God and his child. Will you join me? And try not to fall asleep.
=======
25 August 2019
Dear Friends,
A few weeks ago I mentioned to you that I have been visiting all our home groups this winter period, and Tuesday was my final visit, with our Fourways/Rivonia group. On the way I was listening to a fascinating marketing discussion on Radio 702. The Marketing Guru, as they refer to Andy Rice, mentioned how rarely these days we see mini-bus taxis emblazoned with an advert for some or other consumer product. You will recall a few years ago when we would regularly see taxis covered (from tip to toe) with the branding of a product like a washing powder etc.
The question was why we don't see this much anymore? It seems, at face value, like it is a very good medium, i.e. using the visibility of taxis to advertise. Andy Rice affirmed that it is a very good medium, but because of the bad behavior of taxis, the products advertised on the taxis, subliminally, became associated, in the minds of the consumer, with the taxis bad behavior and so it landed up damaging the brand of the product being advertised. The result is that advertisers stopped using the medium of taxis to advertise!
Dare I liken us, as Christians, to the taxis?!

Yes, because, like those branded taxis you and I are 'branded' with Jesus. We are clothed in Christ (Gal 3:27) and bear his name (Rev 14:1). The questions is, what do people associate with Jesus when they see how we behave and live?
As you and I move amongst the people in our community (at home, at work, at play), like the branded taxis amidst all the other motorists, what do they see about Jesus in us?
In John 13:35 Jesus gives us the clue – "By this everyone will know that you are my disciples, if you love one another."
Do people see and hear love from us and amongst us?
None of us are perfect, but with the help of the Holy Spirit we must be keenly aware that we are walking, talking adverts for Jesus out in the world and my prayer is that you and I will be good brand ambassadors for the Lord

.
With my love, Chris
=======
18 August 2019
Dear Friends,
On Wednesday evening the Bethel Old Testament group met again after a few weeks winter break. Nicola, who teaches the course, was unwell and so I jumped in to lead the evening. There is a lovely bunch of folk doing the course and so besides enjoying the teaching, I also loved connecting with those attending. As we recapped what they had already studied in the Old Testament we were reminded that the bible is a record of God's plan (through Israel and Jesus) to restore the brokenness that sin had/has caused in the world.
As we discussed this, the question arose regarding what we are supposed to do once we respond to God's grace in Jesus? In other words, since God's plan is to reconcile us with himself through Jesus and save us from the consequences of sin (guilt and death), what is the next step once someone accepts Jesus and his gift of eternal life and reconciliation with God? If I recall, the questions was, "what is our mission once we accept Jesus?"
Well, we affirmed two things in response to this query. The first is that once we accept Jesus as our Lord and Saviour, the Holy Spirit begins his work of changing us (with ever increasing glory – 2 Cor 3:18) into the likeness of Jesus. In other words, God takes our brokenness and our pain and our destructive habits and, if we allow him, begins to bring wholeness and hope and joy to us as he heals us from all the wounds that sin has brought to our lives. This work of the Holy Spirit is intended to bring us the fullness of life that Jesus spoke of in John 10:10.
And then, secondly, not only do we welcome the Holy Spirit's work in us, but our mission or purpose in life is also to join God in HIS mission. And what is his mission? Well, Jesus stated it plainly – to proclaim the good news of Kingdom of God (Luke 4:43). To be part of God's work in establishing his reign and love in the hearts of every person. Here at Midchurch our Vision statement (which you will see on the front our Sunday leaflet) is: "TO SEE THE LOVE AND REIGN OF GOD RENEW THE WORLD."
This is God's mission and so it is our purpose too in which we believe we must be DOING 4 things….
SERVE (love) the world unconditionally – CALL people into a living relationship with Jesus Christ – FORM believers into disciples – GO into the world with God's love (serve)… And so the cycle continues J - Serve, Call, Form, Go.
Being reconciled with God through Jesus is not the end of it, we have much to do in the world with Jesus as he establishes God's kingdom.
With my love, Chris
=======
11 August 2019
Dear Friends,
Please don't miss the significance of the 9th of August – Women's Day.
It marks the day, on 9 August 1956, when more than 20,000 women staged a march on the Union Buildings in Pretoria to protest against the proposed amendments to the Urban Areas Act (commonly known as the pass laws) of 1950. With a petition signed by over 100 000, the march was led by Lilian Masediba Ngoyi, Helen Joseph, Rahima Moosa and Sophie Williams .
It was not only a courageous stand against Apartheid laws, it was also a powerful statement that women are to be taken seriously, as seriously as men.
In 2019 we would fool ourselves if we thought that women are now treated equally in society. The mere fact that violence against women continues to be a scourge in our land is evidence enough that women are still seen by many as second class citizens and human beings. And, at the heart of this abuse/violence lies the sin of patriarchy! In Genesis 3 we are told that as a result of the fall of humanity, i.e. the willful rejection of God's ways and God's love for us, men would dominate women (Gen 3:16). But, NOTE: This was not a blessing spoken over Adam (men) by God. It was a curse! The direct result of sin. But, men of every culture and age around the world have treated it as a divine injunction – the will of God – and so, 'who are women to want or expect anything different?' Most men do not treat women as God envisaged it in Gen 1:27, as an equal in the image of God. And so through the violence of words and hands, men have oppressed and dismissed and belittled and forced women to do their will.
Jesus died and rose again to break the power of sin and evil, and its consequences. In Jesus there is no male or female (Gal 3:28). This does not mean that there is no gender in Jesus, of course there is, men and women are different is so many ways, but with the curse of patriarchy broken, women stand side by side with men fulfilling our calling to serve and build his kingdom of love and grace…. together!
Women's Day is not about giving women special treatment, it is about giving women equal treatment, as human beings made in the image of God, just as much as men are.
With my love, Chris
=======
4 August 2019
Dear Friends,
Yesterday I had quite a bit of driving around to do, with a meeting in Kempton Park for the morning and then one in Bryanston in the afternoon. With Bluetooth in the car I was able to make some calls while on the road, but when those were done I decided to play a worship album I have not listened to for a long time…
It is called 'Joy in the Journey', and the artist is Michael Card. Released in 1994, when I was in my 2nd year at Rhodes University!! Besides being a brilliant guitarist, he writes inspiring lyrics. As I listened, with the music making me all nostalgic for my student days J, his song about the Lord's Supper moved me to tears. I will be using some of the words this Sunday when we come to the Lord's table for communion, but I would also like to share them with you here.
Of course, I realise that as I type these words I am at the advantage of having the music playing in my head, but I hope that despite this omission for you, you will still be stirred by the way Michael Card communicates the profound beauty and significance of sharing in communion with Jesus and one another.
Come to the table and savor the sight
The wine and the bread that was broken
And all have been welcomed to come if they might
Accept as their own these two tokens
The bread is His body, the wine is the blood
And the one who provides them is true
He freely offers, we freely receive
To accept and believe Him is all we must do
Come to the table and taste of the glory
And savor the sorrow, He's dying tomorrow
The hand that is breaking the bread
Soon will be broken
And here at the table, sit those who have loved you
One is a traitor and one will deny
But He's lived his life for them all
And for all be crucified
Chorus:
Come to the table He's prepared for you
The bread of forgiveness, the wine of release
Come to the table and sit down beside Him
The Savior wants you to join in the feast
Come to the table and see in His eyes
The love that the Father has spoken
And know you are welcome, whatever your crime
For every commandment you've broken
For He's come to love you and not to condemn
And He offers a pardon of peace
If you'll come to the table, you'll feel in your heart
The greatest forgiveness, the greatest release
Friends, Come to the table He's prepared for you, The bread of forgiveness, the wine of release. Come to the table and sit down beside Him, The Savior wants you to join in the feast.
With my love, Chris
=======
28 July 2019
Dear Friends,
Dogs have far better hearing than humans do. This past week Keryn and I have had firsthand experience of this. Almost every day in the early hours of the morning we have been woken by Chorkie growling and then 'barking' under her breath (I think she knows that it wakes us and so she tries her best not to bark, but it is like she cannot help herself and so the result is a muffled kind of grunt/bark). It seems that there is a neighbourhood cat that comes to visit our property around 02h00 every day and then teases Chorkie by meowing! Chorkie's keen sense of hearing wakes her out of her beauty sleep and she proceeds to wake US up too. Of course, we shout at the poor animal for simply doing what she is meant to do – warn us of anything unexpected.
Dogs have an uncanny (or is that uncanine

) ability to hear things that we humans don't and when they do, they immediately pay attention. How many times have you seen a dog lying peacefully somewhere when suddenly it sits up and looks around for something it has heard?
As followers of Jesus we need to learn to listen, amidst all the other noises and voices of this world, for God's voice in our lives. There is no doubt that he speaks to us. There is that vivid story in 1 Kings 19 where Elijah is overcome with fear and goes to hide from his enemy in the hills. He waits to hear from the Lord, but it is not in the loud events that he hears God (earthquake, wind, fire), it is in a still small voice.
You know about this voice. That 'feeling' you get to phone someone out of the blue only to discover that they are in need of encouragement or support. That 'sense' that you should keep quiet and not speak your mind in the midst of an argument with someone; or the exact opposite, when you get a strong 'nudge' to speak out into a situation where you feel there is unfairness or injustice (towards you or another person).
We need to listen for this voice and when we hear it, sit up and pay attention. In Proverbs 3:6 we are told – "Listen for God's voice in everything you do, everywhere you go; he's the one who will keep you on track." MSG.
Pay attention, and like the young Samuel who was woken in the early hours of the morning by a voice calling him, say, "Speak, Lord, your servant is listening."
With my love, Chris
=======
21 July 2019
Dear Friends,
"Do not give up meeting together, as some are in the habit of doing, but encourage one another." Heb 10:25
Over the past few weeks, and for a few more weeks to come, I have had the privilege of visiting the various Home Groups and Bible Study Groups in our congregation.
A few months ago I sensed a nudge from the Lord telling me to go and fellowship with the groups. I am very thankful that I was obedient to that call. I have been with 7 of the groups so far, and will see the remaining 5 in the weeks ahead.
Although I, as the Dominee J, have gone to the meetings with the intention of encouraging and blessing the groups through fellowship and prayer, much like the writer to the Hebrews intended to do (see above), I have landed up being the one encouraged and blessed. I have loved connecting with the members of the groups, catching up on each other's lives and listening to what the Lord has been doing amongst his people. It has been a joy to be hosted in various homes and to experience the love and care of the groups. It is no accident that the church first met in people's home, not in large public buildings like St Saviour's, because it is in the context of small groups that we feel most loved and are able to grow in our faith. Yes, of course, corporate Sunday worship is important and I also love spending that time with you in worship of God, but over and over again it has been shown that small groups are where the Holy Spirit is able to disciple people most effectively.
Our Home Group mission here at Midchurch states it well:
To connect people relationally in small groups for the purpose of becoming more Christ-like through love, care, prayer and study, and, in so doing, to grow and make disciples of all nations.
If you are not part of a Home Group or Bible Study Group, I want to encourage you to give serious prayer and thought to joining a current group, or even starting a new one. Perhaps you have a circle of friends here at Midchurch that simply need a nudge to start meeting?
If you would like to be part of a small group like this or would like to start one, please have a word with me or Martin Hekman, our Home Group Shepherd, or Pam Louw, the convenor of our InReach Group, to get more information.
With my love, Chris
=======
14 July 2019
Dear Friends,
Casting Crowns is a contemporary Christian band who have been around since the early 2000's. They have toured all over the world and their music has received wide acclaim with the group even being awarded a Grammy.
For some time I have been keen on us learning one of their songs called, Glorious Day (released in 2011) and our Joyful Noise worship group will hopefully be teaching it to you next week, the 21st of July. It is a song that focuses on Jesus: his birth, life, death, resurrection and return one day. The chorus is particularly striking:
Living, He loved me
Dying, He saved me
Buried, He carried my sins far away
Rising, He justified freely forever
One day He's coming
Oh glorious day, oh glorious day
I encourage you to search for the song on YouTube and have a listen before next Sunday. As I said, if the Joyful Noise practice goes well, we will be singing it in worship next week J.
I was listening to Glorious Day again today in the car from their 2010 album, Until the whole world hears, and a line from another one of their songs on that album grabbed my attention. It is the title track (also a very good song J) and the opening verse reads:
Lord I want to feel your heart
And see the world through your eyes
I want to be your hands and feet
I want to live a life that leads.
I WANT TO LIVE A LIFE THAT LEADS…
This is not a prayer for status or self-promotion or prominence (as many in the world understand leadership to be), but simply a desire to live a life that leads other's to Jesus. To be an example of how God's grace and Spirit can transform a heart and so possibly inspire/invite/encourage others to follow Jesus and WANT to live for him too. It is something I pray for and desire for myself, and for you… to live a life that leads…
With all my love, Chris
=======
7 July 2019
Dear Friends,
On Wednesday Pam invited me to join her outside Ministry House in the gardens near the fountain at one of the trees planted in remembrance of a loved one. She showed me that the family of this particular loved one had recently placed a beautiful piece of polished granite at the base of the tree with an inscription on it giving thanks for her life. I had not seen it before and so we took a moment to read it and remember the person concerned. As we walked away I noticed again the number of other trees and inscriptions in that part of our grounds and, added to that the number of folk whose ashes have been interred here, I commented to Pam how being in the presence of all the trees and plaques etc. reminds us of the great company of saints who have gone before us.
A few times a year we stand together in worship on Sunday's and recite the Apostle's Creed (the oldest and most widely accepted summary of our faith – shared by all Christians the world over) and the fourth last line states –
"I believe in the communion of saints."
What does that mean? Well, it is clear from the bible that all who follow Jesus form his body, with Jesus as the head. This means that we are united to one another because of our belonging to Jesus. This belonging to Jesus and one another is referred to as the communion of saints. But, it is not only the saints (followers of Jesus) currently on earth, but also includes all those who have gone before us, forming what the writer to the Hebrews calls the great cloud of witnesses that surrounds us (Hebrews 12:1).
This does not mean that the dead are present with us in some 'ghostly' fashion, but rather that we have inherited a faith in Jesus from those who have come before us and so we, together with them and their witness, are the communion of saints.
Walking in the garden amongst the final physical remains of many saints who have gone before me, I was deeply aware of and humbled again by the realization that my faith in Jesus was not received in a vacuum – I stand on the shoulders and share in the faith of those who have come before me, and so do you. We are surrounded by a great cloud (heritage) of the saints who have gone before us.
I gives thanks to the Lord for all those who have faithfully lived in faith and passed their love of the Lord on to others, such as myself. Perhaps you would like to take a moment and remember the saints in heaven and their faithful service to Jesus?

With all my love, Chris
=======
30 June 2019
Dear Friends,
If you are much of a social media person and happen to follow me, or for that matter Midchurch, on Facebook/Instagram you will know that every now and then, besides sharing our Midchurch posts, which are awesome

, I also post things that inspire me and which I hope will inspire or encourage others as well.
This morning I shared a quote from a daily devotional I often use – Common Prayer: A liturgy for ordinary radicals - which was quite meaningful for me. It seems that it also touched a number of other people's hearts and circumstances because besides the 'likes' and 'shares' that the post/quote received, I also received a number of private messages from folk expressing that it was exactly what they needed to hear and remember today! It is unusual for that to happen, but illustrates that it is a message that perhaps many need to hear.
It was Pierre Teilhard de Chardin, a French philosopher and Jesuit Priest, who wrote:
"Above all, trust in the slow work of God. We are quite naturally impatient in everything to reach the end without delay. We would like to skip the intermediate stages. We are impatient of being on the way to something unknown, something new. And yet, it is the law of all progress that it is made by passing through some stages of instability —and that it may take a very long time. Above all, trust in the slow work of God, our loving vine-dresser."
Of course, Teilhard de Chardin is simply, and eloquently, reinforcing what we read in the scriptures… to be patient and wait upon the Lord. The problem is not God's pace, but our struggle with waiting…
In Micah 7:7 we read – "As for me, I will watch expectantly for the LORD; I will wait for the God of my salvation. My God will hear me."
And Lamentations 3:24 - "The LORD is my portion," says my soul, "Therefore I have hope in Him." The LORD is good to those who wait for Him, To the person who seeks Him. It is good that he waits silently for the salvation of the LORD."
Perhaps you need to hear this Word from the Lord today?
'Trust in the slow work of God…' or as it is stated so many times in the bible, 'Wait upon the Lord.' He is faithful and trust-worthy.
With all my love, Chris
=======
23 June 2019
Dear Friends,
Two incidents have prompted me writing this. The first was on Monday, the public holiday, during the morning, when I suddenly picked up a pungent odor in the air in our lounge (no, it wasn't me or the dog J) and went outside to see billowing out of my neighbour's built in braai, black smoke that smelt just like burning plastic. I peered over the wall to see what was going on, but saw no one. A moment later, my neighbour popped her head over the wall and asked if all was well? I told her that I was worried about what was being burnt on the braai and the smoke, which was clearly toxic. She assured me that there was nothing to worry about because she was simply burning some papers from her office (she did not have a shredder). I thanked her for the info, not convinced that it was paper – it definitely smelt like plastic!
Then, today, driving to see one of our members I came over the hill here in Midrand (driving south along Smuts Drive) to 'see' the whole of Sandton and Jo'burg before me smothered in thick, brown winter smog!! It was very distressing to see and consider what you and I breath in every day!
When God created he gave us 4 responsibilities (which I touched on last Sunday during the sermon), one of them being – 'to work and take care of the garden (earth)' Gen 2:15. As the human race we do not have a good record of caring for the 'garden'. We all know how serious our impact on the planet is and the affect it is having on climate change and global warming. What can you and I do?
Here are a just a few suggestions:
Recycle!!!! You will be amazed at how little actually has to be tossed out with your weekly refuse removal once you start recycling.
Try to purchase as little plastic as possible (containers, goods etc). If you do, then recycle.
Use water sparingly. Check you have no leaks in your home, don't leave taps running and reuse the water in your bath for the toilets or plants.
If your car is smoking, get it fixed so that the engine can work as optimally as possible.
Do not litter! And pick up litter in your area so that it does not land up in the storm water system.
And plant as much Spekboom as you can. Spekboom, a uniquely South African plant, is the most effective absorber of carbon dioxide on the planet!! In fact, there are Carbon Farms in RSA that grow Spekboom in order to absorb carbon dioxide! Google it. It is an incredible plant! Another Proudly South African product that can literally save the world. J.
Please take care of the garden!
With all my love, Chris
=======
16 June 2019
Dear Friends,
Last week I wrote to you about the birthday of the Church – Pentecost.
And this week I want to continue with that theme and share some thoughts with you from one of my long time mentors – C.S. Lewis – on the matter of MEMBERSHIP. His point, as you will read in a moment in his typical logical and matter of fact style, is that a determining characteristic of the Church is precisely that all her 'members' (you and me) are meant to be different from one another. We are not meant to be the same. We are a collection of unique and very different people. If we were all the same, we would not be members, we would simply be interchangeable units.
He writes: "The very word membership is of Christian origin, but it has been taken over by the world and emptied of all meaning. For example, in any book on logic you may see the expression 'members of a class'. It must be most emphatically stated that the items or particulars included in a homogenous class are almost the reverse of what St Paul meant by members. By members… he meant what we should call organs, things essentially different from, and complementary to, one another. True membership is well illustrated in the structure of a family. The grandfather, the parents, the grown up son, the child, the dog, and the cat are true members (in the organic sense), precisely because they are not units of a homogenous class. They are not interchangeable…. If you subtract any one member, you have not simply reduced the family in number; you have inflicted an injury on its structure. Its unity is a unity of unlikes."
And so, membership of the body of Christ is a celebration of our unique differences drawn together by the Holy Spirit and then formed into a dynamic family in which your membership enriches and enlarges the whole family.
I really like his comment that the unity of the Church is A UNITY OF UNLIKES. J. Jesus is not in the business of creating mass produced clones of some kind in which we all look and think and feel the same. He in the business of taking each of our unique shapes and stories and, through his Holy Spirit, heal us from pain and sin and so form us into the best 'us' we can be. And then draw all these unique and beautiful people into a loving, accepting and transformational community in which diversity and difference is celebrated and embraced. Yes, it can be messy, but it will never be dull or boring

.
With my love Chris
=======
9 June 2019
Dear Friends,
HAPPY BIRTHDAY!
As you know, I try to contact all our members on their birthdays. It is typically a great joy speaking to people on their birthdays because invariably it is a happy day. Yes, there are exceptions especially when someone has a birthday shortly after losing a loved one, but mostly it is a day to celebrate because, as someone pointed out to me a few years ago, it is a day on which we give thanks that God gave us life. So, no matter your age and circumstances and whether or not you are pleased about marking the passing of another year and the addition of a few more wrinkles, the fact is that your birthday is fundamentally a thanksgiving to God for the gift of your life.
This means that birthdays should not only focus attention on the one who is another year older, but birthdays should also focus attention on the ONE who made the birthday possible in the first place by giving the gift of life.
Today is Pentecost Sunday - the birth-day of the Church.
Millions of Christians around the world are celebrating the outpouring of God's Holy Spirit on the first believers nearly 2000 years ago on the day of the Jewish festival of Pentecost!
I cannot overstate the importance that this event had, and still has, for the world! The disciples were empowered/anointed/blessed/filled/inspired/moved by the Holy Spirit to bring the Gospel to all nations inviting everyone into a relationship with Jesus that forever changes those who choose Him and the communities that those believers form (church) and live in (society)!
And so, today should be a joyful occasion, just like all other birthdays are, not only because we give thanks for the life and work and ministry of the Church (the one whose birthday it is), but also because we give thanks to the One who gave her life in the first place by giving us the greatest gift of all - God's Holy Spirit, without whom there is no Church, no ministry, no mission, no purpose, no love, no peace, no kindness.
Please join in me in offering this simple prayer of thanksgiving:
"Thank you Lord God for your Holy Spirit, and thank you for your Church. AMEN."
With my love, Chris
=======
2 June 2019
Dear Friends,
As I sat down to write this letter, an email notification popped up on my screen (lower right corner) which showed that I had just received an email from a cell phone company with a subject line stating… "Vodacom has some amazing deals for you!"
How many times a day do you receive emails, text messages or even phone calls (yes, telemarketers are still around) offering you an incredible deal of one sort or another?
Of course, as all good marketing attempts to do, the intention is to convince you that the company in question is actually doing you a favour and that the benefit of the deal is solely yours, not theirs.
I then wondered what it would be like to have telemarketers for the Kingdom of God? What would a call like that sound like? J. What would be offered to the 'consumer' and convince them to accept Jesus as Lord and Saviour?
As I played with this thought in my mind, I realised that the analogy can only go so far, because although God does make an offer to you and me in Jesus, an offer of forgiveness, love, belonging, relationship, purpose, eternal life, healing, joy… there is no underlying agenda of God trying to make something out of the deal for himself.
There are no conditions to God's love, no fine print, no unexpected 'pay backs' to him, no penalty clauses. All that is 'required' is to accept the offer.
But, because we have such bad experiences of people and companies who promise a great deal, but often let us down, we place Jesus in the same category and assume that there must be a catch and that we are going to be 'taken for a ride' when we accept his offer of love and salvation. Our experience of the T&C's of life can leave us deeply cynical of God's love.
I am probably writing this to the converted, literally, but perhaps you can share this with a loved one or a friend… When it comes to Jesus, there really is an amazing deal for you!! No strings attached, no complicated contracts, no hidden agendas – only freedom in Jesus to become all that he knows you can become in his kingdom.
With my love, Chris
=======
26 May 2019
Dear Friends,
I am reading Deuteronomy again which begins with Moses sitting the Israelites down, 40 years after leaving their captivity in Egypt, and him retelling the story of their nation and relationship with God. At that point in their history (in God's plan with them) they were about to cross the Jordan River and enter the land that Abraham had been promised many years before. But, before they could continue their journey and mission, Moses told them the story once more. He understood the importance of what God had done amongst them and he also knew that people quickly forget the past as they struggle with the present and face an uncertain future.
He had to remind them of who they were, of what God had done for them, of what God had given them, of what God had called them to be and that their future was inextricably linked, in fact, determined by their relationship with God. And so, in a now famous passage, Moses says, "Hear, O Israel: The Lord our God is one. Love the Lord your God with all your heart and with all your soul and with all your strength." Deut 6:4,5.
Jesus would echo these very words some 1400 years later when he was asked what the greatest command was? He would also add by quoting Lev 19:18, "and the second is like it, 'Love your neighbor as you love yourself'".
We all recognize and feel that we are living in challenging times into which Jesus calls us to live for him and his kingdom. However, sometimes we can grow weary and despondent and even fearful. In those moments I would encourage you to recall and retell your story. The story of how God has worked in your life in the past. The story of grace and forgiveness, second chances and new beginnings. The story of his Spirit breaking down barriers and giving courage. The story of a Kingdom that is eternal!!! Long before 2019, Jesus is Lord! Long after 2019, He will still be Lord!
And at the heart of his Lordship, of his story in your life and mine is… LOVE!
As you face this coming day and week, remember your story, the story of God's love and work in your life, and remember that you are part of his greater story of love and salvation in the world that that spans the millennia.
Remember….

With my love, Chris
=======
19 May 2019
Dear Friends,
They (whoever they are?

) say that VARIETY IS THE SPICE OF LIFE. Well, this past week's experiences have been particularly varied for me, unusually so, in fact.
Last Wednesday, like most of you, I stood in line to exercise my democratic right to cast my vote and so participate in the process that allows for rule and governance in our beautiful country. I stood in queue with Keryn and Rachael for 3 hours and felt deep joy and satisfaction in playing my part. I thank God for the IEC and a successful election day for our nation.
Then, on Thursday I joined a passionate, dedicated, faithful and diverse team of 53 people at the Leeuwkop Maximum Prison where we spent the next 4 days (until Sunday afternoon) loving, listening, teaching, challenging and praying with 36 prisoners. Like the rest of the team, I was absolutely exhausted on Sunday, but equally invigorated by being part of God's mission of extending and establishing his Kingdom on earth as it is in heaven.
Then, on Monday morning, since both Keryn and I have Monday's off, and in much need of some marriage time, we spent a few hours resting and picnicking in the Pretoria Botanical Gardens. There were hardly anyone else around and we were able to reconnect amidst the beauty and calm of God's varied creation
Then, on Tuesday I, along with a 100 other golfers, participated in our annual Midchurch Charity Golf Day at the Centurion Country Club. The golf was bad, but the day was good J. Walking the course, enjoying the company of my fourball, and then MC'ing the prizegiving dinner afterwards made the day well worth it (not to mention the fact that we exceeded our fundraising target!!).
Then, yesterday (Wednesday), I spent much of the day in a General Assembly Finance Committee meeting considering the many and varied financial matters facing our denomination (UPCSA) and giving thanks to God that Midchurch is once again the biggest giving congregation to the denomination (I thank God for your generosity). More importantly, though, I felt that I was able to add value to the meeting and, along with the other members, did what we can to ensure accountability and good stewardship of the resources that God has given the UPCSA.
Today has been a relatively 'normal' day; making pastoral connections and working with a great leadership team to oversee the varied ministries at Midchurch.
"Thank you, Lord Jesus for LIFE and the gift of living it with you and others who wish to serve and bless and give and care." AMEN
With my love, Chris
=======
5 May 2019
Dear Friends,
Every 5 years the citizens of this beautiful nation stand in queues for hours to express their will and make a difference.
Wednesday the 8th of May 2019 is another one of those days, and YES…. Your single vote is important and does count! So, please be prayerful, discerning and responsible with your vote. If you are registered, but are in two minds about whether you should spend an hour or 2 (or three) in a queue at a voting station or not, can I encourage you to lean towards making the effort?
As I look around at the world to countries that are in political, social and economic turmoil; notably, Venezuela, Syria, Sudan, Zimbabwe and others, I am very thankful for the IEC and the will of the South African people to attempt to live by the maxim – "The pen is mightier than the sword!"
I suspect that again I will be deeply moved on Wednesday when I make my mark, not taking for granted what it cost to bring us the freedom to participate in the democratic process.
Of course, our country (government and business) still suffers under the scourge of corruption and maladministration, and we certainly have a long way to go as a nation to live up to the ideals enshrined in our constitution, but election day gives us an opportunity to get involved and participate in the grand project that is the 'new' South Africa.
I must state again, as I have before on many occasions, that we have an opportunity in RSA to do something that very few others (if any) have been able to get right anywhere else in the world – which is to form a society in which diversity is not seen as a threat and a reason to divide people, but rather is seen as a source of celebration and the foundation upon which we (of all cultures and ethnicities) can not only learn to get along, but actually will want to get along and enrich each other's lives with our stories and dreams. I will be accused of naiveté and the oversimplification of complex issues in which pain and hurt run deep, but it is this hope and vision that drove those who first negotiated our future as a nation (in the 1990's) and must be what continues to drive us.
So, yes, divisions and suspicions still run deep, and the economic inequality in our land is sinful, but, what we do on Wednesday is something worth celebrating and participating in. So, get out there and VOTE!
With my love, Chris
=======
28 April 2019
Dear Friends,
When a couple comes to me to be married, I tell them that part of the deal in getting me, is that we will spend some time together in marriage preparation counselling. One of the couples I am currently journeying with were referred to me by their family and so without knowing them before we met, we had to build a bit of a rapport with one another. As we grew more comfortable in each other's company I started to pick up that the groom seemed to have a fairly good knowledge of Christian jargon, beyond what I would expect from someone who does not seem to be worshipping anywhere.
I asked him, "You seem to have a good knowledge of the Christian faith?" "Yes," he said, "I have done some theological studies." Pleasantly surprised, I asked him where he had studied? He told me and then I asked him where he was worshipping at the moment? His response: "Nowhere, I am now faithless." I pushed him a bit on what that means, because he is not an atheist nor an agnostic. We started to engage a bit more on this and it turned out that he had grown quite disillusioned with the church he was part of and it seems he was hurt. We continued to chat and connect on a number of other matters and my prayer is that he may want to reconnect with the Lord Jesus. Perhaps, I will preach a fiery sermon at their wedding

.
Of course, this is not the first story I have heard of someone hurt by the church. I have shared with you before that one my lecturers at Rhodes University once told us, "The Church is like Noah's Ark: it is the one place you must to be saved, but it is full of smelly, dirty animals." I am afraid that I am one of those animals, and so are you, and sometimes we can hurt one another. This is inevitable when you throw together a bunch of imperfect people. BTW – if you do ever find the perfect church, don't join it… because it won't be perfect anymore

.
My point is that although the Bride of Christ (the Church) is beautiful, we who make up her membership can sometimes say and do things that offend and hurt our fellow brothers and sisters in Christ. If this happens, please don't judge Jesus or his bride on that bad behavior. His Kingdom and mission is of such importance, we must do all we can to remain a part of it.
And, if you do ever find yourself upset by my or anyone else's actions/words here at Midchurch, please speak up and let's address it so that we can learn and grow together.
I love Jesus' Church and all the animals in it

=======
21 April 2019
Dear Friends,
As most of you know, this past week saw the almost 800 year old Cathedral of Notre Dame in Paris very badly damaged by a fire. All the major news networks covered the event and then also reported on the response of the French people and the world to the fire. People expressed shock and heartache at the what happened and immediately started pledging money to restore the Church building. Within a day, over 1 billion dollars (yes, you read correctly) was raised for the restoration. Although the French President has vowed to have the restoration completed within 5 years, most experts say it will take closer to 10 or even 15 years to complete the work. Over 13 million people visit the building every year!!! It is the most popular tourist attraction in all of France, attracting even more tourists than the Eiffel Tower.
I have heard discussions on the radio as to why so much interest has been generated around the fire in Notre Dame? Perhaps the 13 million visitors each year may have something to do with that

. There is no doubt that it is a beautiful and iconic structure (the finest example of French Gothic Architecture there is) that I, too, would like to see one day. It is apparently awe-inspiring to see and a moving symbol of the French nation.
I understand and appreciate all of this, but I wonder whether 1 billion dollars could not be better spent in humanitarian aid or such like? And, the fact that this amount of money could be raised so quickly also speaks to how much wealth there is in the world that could be utilized for uplifting the poor and marginalized.
Again, I must state that once the church building is restored it will probably be on my bucket list, but a building is not the church. And the church is not a tourist attraction, it is a living organism or body (as Paul refers to it) that is not found in buildings, but wherever Jesus' followers (you and me) find ourselves.
Of course, the gathering places of the church can be beautiful and awe-inspiring, much like our own buildings and property here at Midchurch, Randjesfontein, but the Church is not a place – it is a people.
And this Easter Sunday we must remember that the resurrection of Jesus is not only an awe-inspiring historical event, it is a reality that you and I are encouraged to invite into our lives when we accept Jesus as our Lord and Saviour. We share in his resurrection life TODAY and his Holy Spirit moves us out into the world to serve and love and uplift and care for others, as Jesus did. We are called, as the Church, not to be a tourist attraction (a curios phenomenon of history), but a living, breathing, moving community of Jesus who changes the world with him. HE IS RISEN!!
With all my love, Chris
=======
14 April 2019
Dear Friends,
On Tuesday evening, I and two of our Elders, Erna Jacobs and Prince Dludla, attended the April meeting of the eGoli Presbytery Council. This time it was hosted by Linden Presbyterian Church.
The meeting itself went well, but a highlight for me was when the Linden congregation was given an opportunity to share with us a little of their life and work. I was deeply encouraged! In recent years the congregation has grown and expanded their ministry, particularly their worship ministry (like us, they have three worship teams), and are doing some great work in the community in and around Linden. They also told us about how their Children's Ministry has grown. A few years ago they had NO children in worship. Today they have about 20 and their ministry amongst teenagers has also picked up again and they now have a regular Friday youth ministry. I was also pleased to hear how closely they work with other churches in the Linden area, something we have not done well in Midrand for some years.
At the meeting we also took time to pray for our members in Alexandra. We have two congregation there and we all know that the Alex community is facing serious social challenges at the moment. We committed to continue praying for them and also to assist in any practical ways that the congregations will alert us to.
With this in mild, I want to ask you this coming week, especially, to pray for the churches in the Presbytery of eGoli. Give thanks for the growth and breakthroughs, but also pray for encouragement and strength in the face of poverty, violence and youth unemployment.
Here is a list of the congregations:
Alexandra, BE Ngubane (Alex), Diepkloof, Dobsonville, Fourways, Moroka, Kagiso, Kensington, Linden, Mayfair, Meadowlands, Midchurch, Moletsane, Mount Faith (Krugersdorp), Orlando, Randparkridge, St Barnabas (Florida), St Columbas (Parkview), St Giles (Norwood), St James (Bedfordview), St John's (Sandton), St John's (Turffontein), St Magnus (Randfontein), St Mark's (Yeoville), St Mungo's (Bryanston), St Ninian's (Parktown North), St Patrick's (Diepkloof), St Paul's (Malbarton), St Stephen's (Rosettenville), Struben's Valley, Trinity (Edenvale).
With all my love, Chris
=======
7 April 2019
Dear Friends,
Keryn, the children and myself spent 4 days at the beach at uMhlanga this past week. It was a very welcome and refreshing break for all of us. I am not sure what it is about the ocean breeze and the crash of the waves, but it revives my soul

.
Even though two of the days were overcast and a bit rainy, we did not miss the opportunity to swim everyday (at one point we were the only people in the water along the entire uMhlanga beachfront!). There are three surf lifesaving stations along the beachfront each with a set of flags near them that indicate where the safest spot is to swim on any given day in that area. Since I am no expert on the uMhlanga coastline, I needed to trust the lifesavers who spend all their time there and understand the currents and riptides etc. On Sunday the beach was very busy and a few swimmers strayed outside of the designated swimming area. No sooner had that happened that a lifeguard came out of the lifesaving stating and blew vigorously on his whistle waving at the swimmers to get out of the danger area and back into the relative safety of the designated swimming spot where we were all having as much fun as we possibly could.
I was chatting with one of our members this morning about the early years of Israel's life as a nation and how God gave all sorts of rules and regulations designed to shape their life as a nation. And that those rules and regulations were meant for their good and also to reveal to us the kind of God he is, i.e. a God of justice, love, order, holiness and provision. In fact, a God of salvation who created the nation of Israel for the express purpose of saving all the nations of the world (Gen 12:3).
Since Israel (indeed all the peoples of the world) had no idea what a good, blessed, ethical, gracious and safe life looked like, God had to give them the boundaries or flags (rules) within which they could prosper and find fulfillment, but outside of which they would falter and struggle. Why? Because God knows what is good and best for us. After all, he created us. He knows where the dangers of life lie and so he warns us against going to those dangerous places and living in a way that only leads to destruction. So, whenever Israel stepped 'out of line', so to speak, he had to blow his 'whistle' and direct them back to the place that leads to abundant and blessed living.

Friends, Jesus said that he came to give us life in all its fullness. This is God's desire for you. Living within the 'flags' of God's love, grace and truth is the best place to be to experience this abundant life. I invite you into that space as you open your heart to Jesus and his Holy Spirit.
With all my love, Chris
=======
31 March 2019

Dear Friends,
When the Apostle Paul wrote to the early Christian communities in various cities and towns around the Roman Empire in the first century, his purpose was not always to give instruction and teaching. Of course, since these worshipping communities were young in the faith they did need advice and guidance on how to navigate the often tricky journey of faith in a pagan society. But, amidst the many words of teaching and admonition, Paul did not shy away from encouraging and giving thanks to God for the faithfulness of the Christians.
Without any presumption of being like Paul, I also want to use this letter (love note) to you as followers of Jesus in Midchurch to give thanks to God for you and, in particular, for how the Lord is using you in our worship as a congregation.
Over the past year or so we have seen an amazing growth in the number of people who serve in the worship ministry. We now have 3 dedicated worship groups who lead the first part of our worship services every Sunday. Over those three groups there are no less than 21 musicians and vocalists who diligently prepare to lead us in worship. Added to that we have a growing Choir of over 30 members who faithfully minister music and song to us every Sunday. And, we are also blessed with one of the best organists in the land (I am not overstating this).
As you know the book of Psalms in the bible is really the song or hymn book of the scriptures and it invites us to express ourselves feely and fully in worship to God. Not only in praise and thanks, but also in lament and confession. The Psalms encourage us to be honest and open with God as we sing new songs (Psalm 96) and make music on all sorts of instruments (Psalm 32 & 150).
In today's worship the choir will be leading the first part of our service and I encourage you to participate fully, freely, honestly and openly. Don't hold yourself back. SING! I know that you can! Don't be bashful or self-conscious. WORSHIP with ALL your might. J
I want to thank God for the worship we share in at Midchurch and I want to invite anyone who plays an instrument and/or would like to sing with one of our groups or Choir, to please contact me. We will find a place for you as we all join together in praise and worship of our loving and all powerful God.
With all my love, Chris
=======
24 March 2019
Dear Friends,
The South African swear word is back again… loadshedding!
My view is that it is actually a grand social experiment engineered by sociologists and psychologists from the government. Let me ask you, how do you feel when the power comes back on? And, if you are around others, I suspect that you will hear mild cheers and the inevitable exclamation of at least one person in the group… "The power's back!" Just in case you had missed it. This moment of euphoria and the joy that lingers for a few minutes following is an attempt to generate endorphins in the brains of the citizens which lands up actually lifting the general mood of South Africa. What do you think? Is this perhaps the subject of a doctoral dissertation? J
No, I suspect not, but besides the periodic ecstasy that accompanies the switch on once a day, there have been unexpected 'silver linings' to this national crisis.
As I ask around, and have experienced myself, it seems that many families are rediscovering what it is to spend quality time together… not staring at a screen, but playing board games or chatting over candle light. Last night, Keryn, I and the children sat around the dining room table and played scrabble. It was a great deal of fun (Nathan won!!) and I look forward to a few more games in the coming days. Earlier in the week I caught Nathan and Emma role playing outside and they were in stiches from laughter. If the power had been on, the chances are that they would have been doing something else… separately. In fact, they are enjoying time without technology so much, they played yesterday even when the power was on!
I am not making light (pun intended) of a very serious problem! I am not trying to brush over the many difficulties and frustrations that loadshedding is causing, but I have to smile when I see what being without electricity for a few hours brings out in us – reading, talking, playing, listening.
Please continue to pray about this crisis and for those trying to find a way forward.
Now is not a time to moan and groan, but rather to pull together as families and friends and communities and discover our common humanity and the joy that lies with in all of us as children of God.
With all my love, Chris
=======
17 March 2019
Dear Friends,
The diverse nature of our South African society is for me a source of great wonder and celebration, but also one of deep sadness and distress.
On the one hand, the variety of persons, languages, cultures, customs, traditions, styles, shapes and sizes is an expression of the richness of God's creativity in humanity. To learn how those different to myself view the world from their perspective (upbringing, culture, gender etc.) is fascinating and humbling.
On the other hand, our society (not only in South Africa, but all over the world) has a sinful tendency to use differences in those other to ourselves as an excuse to stereotype and generalize about those 'others', which feeds prejudices and divisions and suspicions. When this happens, diversity becomes a source of pain and mistrust and even hatred where people bully, judge and dismiss one another.
Today I was paging through Henry Nouwen's devotional book – Bread for the Journey – and came across the following reflection by him that I share with you…
"One of the hardest spiritual tasks is to live without prejudices. Sometimes we aren't even aware how deeply rooted our prejudices are. We may think that we relate to people who are different from us in colour, religion, sexual orientation or lifestyles as equals, but in concrete circumstances our spontaneous thoughts, uncensored words and kneejerk reactions often reveal that our prejudices are still there.
Strangers, people different from us, stir up fear, discomfort, suspicion and hostility. They make us lose our sense of security just be being 'other'. Only when we fully claim that God loves us in an unconditional way and look at 'those other persons' as equally loved can we begin to discover that the great variety in humanity is a an expression of the immense richness of God's heart. Then the need to prejudge people can gradually disappear."
From one loved by God, Chris
-------
10 March 2019
Dear Friends,
I told the Friday morning men's group, Men 2 Men 4 Christ, that I was going to write about this and they just laughed and not thinking I was being serious

.
As we were catching up and checking in with one another this morning, one of the guys, Sigi, shared with us that two weeks ago his granddaughter had found a small rat (called a pup) in the grass near their home and brought it into the house very worried that it would die if left alone. It was very young, still without any hair and about 8cm long. What must be done with a pesky rat? Rats are a nuisance and more trouble than they are worth. Rats are pests not pets.
However, the decision was taken to handrear the rat. And so, every two hours the rat was fed using a paint brush at first, and then a syringe. It grew steadily and it is now about 20cm long, covered with fur and, apparently, a very affectionate and attentive pet! Yes, you have read correctly, a rat as a pet!
As the story was shared and after most of us in the group had made our witty and humorous comments, I realized that the pet rat story serves as a vivid reminder to us of the power of our preconceived ideas and prejudices. Rats have always been viewed negatively, even as far back as Leviticus 11 in which rats are declared unclean. Rats were blamed for the black plague in Europe, when it was actually the fleas on the rats, not the rats themselves. We even call pigeons the rats of the sky. Did you know that the collective noun for rats is a… mischief of rats? And yet, Sigi told us how this rat has creeped into their hearts and is becoming a very good companion and pet for his granddaughter.
Two lessons:
Firstly, we often have deep seated negative prejudices against others. Comments like, "they always do things like that…" or "don't expect anything different from people like that…" Or "isn't that just typical of…" Until our prejudices against rats were challenged by Sigi this morning, most of us would have perpetuated the negative feelings and thoughts around rats. Don't allow your prejudices to you blind you to the beauty, complexity and humanity of all the 'theys' out in the world. Open your heart to the other, you may be surprised at how misplaced your prejudices are.
Secondly, one of the reasons why the rat has become so attentive and docile and 'loving' is because of the care it is receiving from the hand of Sigi's granddaughter. Most often people behave badly because they have been treated badly. But, when we start to love others and treat them with respect, you will see the power of love transforming that person's heart. As followers of Jesus we are called to love people into their humanity as God restores their lives.
With my love, Chris
-------
3 March 2019
Dear Friends,
"The axe forgets what it did to the tree, but the tree never forgets what the axe did to it."
Every four years all the ministers of the Uniting Presbyterian Church are invited to a Minister's Conference that is intended to give the ministers of the Church an opportunity to fellowship in a context other than typical Church business meetings, and provide the space to engage and reflect on any number of pressing ministerial and theological issues. The 2019 conference was held this past week at the eMseni Christian Conference Centre in Benoni.
The words quoted above were spoken by the Rev Sikhalo Cele, one of the guest speakers at the conference, who was invited to address the important pastoral ministry of the healing of memories. The fact is that all of us have painful memories from our pasts that often remain unresolved and leave us emotionally and spiritually scarred and even dysfunctional. We have all been acted upon by others and left wounded both by verbal and physical violence.
Often those who hurt us (the axe) not only forget, but are not even aware that they have hurt us, and so they never apologize! In fact, some axe's would contend that there is no need for an axe to apologize, because it is an axe.
This leaves us, the trees, not only wounded, but also angry! And we carry with us that anger and pain all our lives, unless we allow God's healing to restore us, as we forgive those who have hurt us. Of course, the dilemma is that the axe has long since forgotten what it has done even though the tree never does, which makes forgiving the axe so much harder. Yet, Jesus is clear about forgiving those who hurt us – Mark 11:25, Matt 18:22, Luke 6:37.
Then, there is the other side of this truth… you and I are also sometimes the axe! Often, because we never want to be the tree again, we decide to become the axe. And the very hurt we once felt as the tree, we bring to bear on others as we swing at all those around us making sure that we are not hurt again.
Jesus understood that the only way to be healed from the hurt as the tree, and to prevent us from becoming the axe, is to forgive those who have hurt us and allow his grace and love to dominate our lives. Of course, this may also mean standing up to the axe with the strength that God gives us.
Healing from the trauma of our past memories and hurts is no simply matter, but an important step forward is understanding the analogy of the tree and the axe and what role this has played in our lives so that Jesus can help us take the further steps necessary to find wholeness and healing.
With my love, Chris
-------
24 Febraury 2019
Dear Friends,
I have not addressed a certain matter in our society that deeply disturbs me, because my concern is that if I should say anything, it will seem like I am simply attacking other Christians and weakening the overall witness of the Church. You will know that Jesus said a house divided cannot stand, and so I have always avoided standing in judgement of or pointing fingers at others in the broader Church because it is a bad witness to the world when Christians criticize one another. There is the far more pressing business of proclaiming the Good News of God's Kingdom to the world, than picking fights with other believers.
However (you saw that coming J), when people who claim to follow Jesus take advantage of members of society who are earnestly seeking a deeper spiritual journey and relationship with God, for their own glory and benefit, something has to be said (note Matt 23). I will not mention a specific person or church in this note to you, but I want to highlight 5 things that should be looked out for as signs of a Christian faith community that may have lost its way:
1) Submission to a particular leader/s: If you are expected to accept a certain person or persons as your spiritual leader/father to whom you must, therefore, submit because they are the ones God is specifically talking to; walk away. Jesus is the only mediator between humanity and God. Yes, there are those called to lead in the Christian community, but we do not 'swear' allegiance to them. Jesus is the head of the church and he calls people into leadership who, together with others, discern what he requires of us. Leadership does not rest on one or two individuals.
2) Claims to have the monopoly on the Gospel: If you are told that you can only follow Jesus in that particular community of faith because they are 'right' and others Christians are 'wrong', be careful.
3) No transparency and accountability with the accounts/money: If you are refused access to the financials of a Christian community, then beware. There are no secrets in God's Kingdom, especially when it comes to the sensitive matter of finances.
4) Spiritual and Emotional manipulation: If you feel emotionally and spiritually manipulated, walk away. Jesus NEVER manipulated anyone.
5) Classes of Christians: This is where being saved by grace through faith is not enough and being told that there are other qualifications necessary before you can know that you are a 'true' Christian. This is a popular one, and unless you can do or experience these certain spiritual things, then you are not really a true believer.
I am not beating the drum of Midchurch here, because no Christian community is perfect. Please pray for the Church (big C) in South Africa, that we will witness with integrity, authenticity and humility.
With my love, Chris
---------
17 February 2019
Dear Friends,
MEETINGS! MEETINGS! MEETINGS!
I phoned someone today but could not get hold of him. However, no sooner had the call ended, that I received a text message from him, 'In a meeting, will ring you back afterwards'. Knowing how most people feel about meetings, I thought to myself, "shame…poor guy!"
Yesterday Nathan asked me a question he often does, "Dad, do you have a meeting tomorrow night?" Again, knowing how people typically perceive that word 'meeting', instead of simply saying, 'Yes', to him, I told him exactly what the meeting or gathering was all about because I don't want him to have a negative association with the word, realizing that some meetings are good and enjoyable and helpful

.
But, the issue is deeper than that and I would like to challenge you on how you perceive meetings.
You see, the word 'meeting' has, in most circumstances, lost it original meaning. To meet someone is to encounter that person and interact with him/her on any number of matters. However, in today's usage the word 'meeting' has lost that sense of an encounter with another human being and instead has become descriptive of the work done in that encounter.
In other words, when going to a meeting (an encounter with other people) what is typically on my mind is not the other people, but the agenda or business at hand. The result is that I see people merely as a means to achieve the goal of that business. This will result in me either being frustrated with the other people at that 'meeting', or elated, depending on whether they help or hinder the work at hand. I understand the importance of being task orientated when it comes to meetings (ask folk who have been in meetings with me and they will tell you as such), however, a meeting is fundamentally, an encounter between 2 or more human beings beloved of God, for whom Jesus gave his life and who his Spirit wants to fill. This means that every meeting must primarily be exactly that, an opportunity to MEET another, whatever the business of that encounter may be.
If you go into your meetings with that understanding and attitude, I suspect that the nature of those meetings, at least from the point of view of your participation, will be very different to the usual.
Try it and let me know how it goes…

With my love, Chris
---------
10 February 2019
Dear Friends,
In light of last night's State of the Nation Address in which the President highlighted many of the problems facing our beautiful nation, not to mention the daily challenges that you and I have to overcome, the story I am going to share with you this week may seem a little mundane and even out of touch, but bear with me

.
On Tuesday I climbed out the shower and after drying off grabbed my can of deodorant only to discover that it was empty. I knew that Keryn and I had bought a new one the week before and so I went to the cupboard in the bedroom where we put our 'extra' toiletries. I looked up, but did not see any deo. I reluctantly grabbed a chair so that I could get higher up and look properly (Keryn always tells me that I don't look properly), but still… nothing. I then thought that I may have put it in the bathroom, knowing that the other one would finish soon. I looked (carefully) in the bathroom, but… nothing. I then shouted to (not at

) Keryn asking where it could be? She suggested the same places I had, but I told her my search had been unsuccessful. She then told me to check the dressing table. I thought to myself, 'the dressing table!?' I had already looked in the room and cast my eyes over the dressing table and I had not seen it, so, 'no, I don't think it is on the dressing table'. However, having learned over the years to trust EVERYTHING Keryn tells me, I went to the dressing table and…. there it was, in all it's glory… my new can of deodorant. I could not believe that I had not seen it before, it was right there all along.
In that moment, I knew I must share this with you because I realized that this whole scene with the deo represents our faith and relationship with Jesus so well! We often go looking for God in all the usual places; the bible, worship, prayer etc. (which is good and we must), but the problem is that we then miss him everywhere else. Unlike my deo, God IS everywhere, not only in the 'usual' places. He is even in the traffic with you and, yes, with the other drivers too J. Don't only look for or expect to meet Jesus at worship and in prayer etc, but every day, everywhere and in every moment. The Lord is with you! He has been there all along. He really is, and his grace and beauty and wonder and hope is to be seen and experienced in often the most unlikely of places.
Pay attention, and expect to meet him…
With my love, Chris
3 February 2019
Dear Friends,
Although I have not been following the blow by blow (literally) revelations of corruption that are emerging daily from the various commissions of inquiry, namely, the Zondo Judicial Commission of Inquiry into State Capture, the Nugent Commission of Inquiry into the affairs of the South African Revenue Service, the Mpati Commission of Inquiry into the Public Investment Corporation (the largest asset manager in Africa) and the Mokgoro Commission of Inquiry into the National Prosecuting Authority; I have been picking up some of the highlights, or are they lowlights, of the various commissions and this week I heard a phrase that caught my attention.
One of the news reports on the radio spoke of how an official (whom I shall not name) who had, for some time, been corruptly funding his girlfriend to the tune of millions of Rands from the funds of one of the institutions mentioned above. At first the comment passed by, like so many others that are being reported every day, but then the Lord drew my mind back to the comment… 'corruptly funding his girlfriend…". I thought, 'hang on a second… why are journalists using euphemisms?' A euphemism is defined as follows: a mild or indirect word or expression substituted for one considered to be too harsh or blunt when referring to something unpleasant or embarrassing.
Why are we not calling out these revelations for what they are? Corruption is a euphemism for stealing and lying! It is as simple as that. The official in question stole tax payer's money for his girlfriend and then lied about it. Why is it reported as, 'corruptly funding his girlfriend'?
The fact of the matter is that our government and business (and society at large) is overrun by the cancer of theft and dishonesty. I pray that these commissions will help us recognize this and realize that the only way to build a society that is a blessing and benefit for all her citizens is to follow God's values and ways of truth, integrity, transparency (our God REVEALS, not hides truth) and justice for the weak and impoverished (read Amos to get a sense of how strongly God feels about this).
Friends, let's stop dancing around the truth and instead call things for what they are so that we can weed out lies and theft, starting in our own hearts, moving into our homes and businesses and communities!
Jesus calls us to bring people back into his Kingdom where 'corruptly funding your girlfriend' has no place.
With my affection (euphemism for LOVE

),
Chris
27 January 2019
Dear Friends,
Last night I attend the induction service for the new minister at Randpark Ridge United Church (RRUC), the Rev John Gordon. The service was well attended by the congregation which made what I witnessed even more significant. Because RRUC is a united Church, i.e. originally constituted by the Methodists, Presbyterians and Congregational denominations, the service was not a typically Presbyterian service. All the essential elements were there, of course, but things were done slightly differently, better actually in one or two instances.
Notably, at that point in the service when the congregation receives the new minister by promising all sorts of things like giving him a regular supply of quality coffee etc (just saying

), which is usually done by the congregation by simply saying, 'We do', after the leader of the service asks them a question, in last night's service (drawn up by the three denominations concerned), John and his wife and daughter were asked to stand in the midst of the congregation, i.e. they went down the aisle until they were about halfway. The congregation then stood around them and leader of the service said,
"My brothers and sisters, John, Rita and Amber-Leigh, and you the people of this church, you are the body of Christ in this place. Through you, God continues his work today. Make full use of the varied gives which the Holy Spirit richly bestows on each of you for the common good. Support one another in prayer and fellowship. Be instruments of Christ's peace and love. Do all in the name of the Lord Jesus for without him you can do nothing. So I ask you: do you turn to Christ, and dedicate your lives to him?"
And John, his family and the whole congregation responded…
"We turn to Christ and dedicate our lives to him."
It was a vivid and moving reminder to me that Jesus not only sends us out into the broken world with the good news of his kingdom (which we speak and hopefully do a lot here at Midchurch), he also calls us to form a community of believers in which we bring together all our sin and shame, all our pain and problems, all our love and joy…. And share it with one another. Then, the Holy Spirit does something beautiful… he shapes us into the Bride of Christ.
I pray that at Midchurch you have a sense of that belonging to a community in which you are loved and blessed and accepted. We are not perfect here by any means, but what we do for Jesus and the world, we do together. We were not created to be alone. With all my love, Chris
20 January 2019
Dear Friends,
This year I have decided to do what many of you have done before, read the bible in one year. I have set myself this goal not as some kind of task that I hope will win favour with Jesus or make me a 'Super-Christian', but simply because I want to immerse my life in the scriptures in an intentional way.
As you can imagine, each day's reading (from the Old Testament, New Testament, Psalms and Proverbs) brings with it fresh insights as well as reminders of old truths which the anchor my life in the Lord.
One of these old truths that jumped out at me again comes from Matt 7 where Jesus speaks about a tree and its fruit. It is a simple analogy, but quite profound and very easy to apply to our own lives and to those around us. Speaking about false prophets, i.e. people who appear to be one thing, but are actually filled with deceit and falsehood, he says, "By their fruit you will recognize them. Do people pick grapes from thorn bushes, or figs from thistles? Likewise, every good tree bears good fruit, but a bad tree bears bad fruit." Matt 7:16,17.
Jesus is not calling us to stand in judgement of others, but simply pointing out a logical truth – an apple tree will bear apples, not oranges. By looking at an apple tree's fruit, you are not judging the tree, but simply recognizing the fruit it produces. So, if an apple tree bears oranges, then you will know that it cannot be an apple tree. In the same way, our lives and the lives of those around us bear fruit. Our actions do indeed speak louder than our words and reveal the true nature of our hearts and intentions.
As followers of Jesus we bear (excuse the pun

) an even great weight of responsibility because we claim to align our hearts, minds, spirits with Jesus. This is NOT about trying to be or 'act' perfect (because that is exactly what Jesus is speaking against here), but it is about being honest with ourselves. If our actions, more often than not, are hurtful and selfish and bullying, then we have to ask what is going on in our hearts? And be prepared to face some bad fruit and then deal with it by repenting and seeking the Holy Spirit once again, to fill us and help us bear the fruit in keeping with our profession of faith and love for God.
NO ONE is perfect, we all make mistakes, but as followers of Jesus we need to be checking the kind of fruit we produce. Is it in keeping with our faith?
I love you and am so looking forward to worshipping with you today.
25 November 2018
Dear Friends,
I had a bizarre experience this week. I was heading home from Ministry House on Tuesday afternoon during peak hour(s) traffic and, wanting to know how long it was going to take me, I opened the Google Maps app on my phone and touched the 'home' icon and it calculated that it would take 43 minutes (Yes!! This is how long it takes to cross the highway from Randjes to Noordwyk during peak traffic!!). I also have the Waze traffic app on my phone and wanted to see if it estimated the same time. I opened the app and also touched the 'home' icon and it calculate 46 minutes? 'Interesting", I thought. This would be a helpful experiment to see which app is more accurate and so I left both open. As I drove along I had 2 lovely ladies' voices giving me directions and the difference in 3 or 4 minutes between the app's ETA's remained?
As I got closer to home I realised what had happened and that is when things got interesting. I have never saved my home location in either app, but because it is where my phone spends the night, both apps have assumed that as my location for home. However, Google Maps has saved that location close to Acacia Street which is actually outside our Estate, just on the other side of my property wall (behind my house), while Waze has saved my location closer to the street inside the Estate. This meant that Google was directing me to the wrong side of my house (which was inaccessible) and so its ETA was shorter than Waze. Obviously knowing the way home I had to ignore the Google lady once I had passed Acacia Street. She then started rerouting me while the Waze lady maintained the correct directions. This landed up being quite humorous because although both apps were attempting to get me home, when I got to the intersection of Ebony Street and Baobab Street, the one said, "In 50 meters turn left onto Baobab Street", while the other (at the same time) said, "In 50 meters turn right into Baobab Street."

The illustration is simple, yet profound. As you journey through life, who are you going to listen to direct your path? There may even be very well intentioned friends who will offer advice and suggestions about which way to turn, but if they guide you incorrectly, you could land up in a very different place than intended.
That is why it is so important to turn to the one who can be trusted for guidance. In Psalm 32:8,9 we are told by God, "I will instruct you and teach you in the way you should go; I will counsel you and watch over you. Do not be like the horse or the mule, which have no understanding."
Do you ask the Lord's opinion when you have a major decision to make? Do you seek his counsel? He only wants what is good for you. You can trust him.
With all my love,
Chris
18 November 2018,
Dear Friends,
My good friend, George Marchinkowski, was invited to preach at the recent centenary celebrations of Goodwood Presbyterian Church, Cape Town. The reason for the invitation was because he had been baptized into that congregation as a child and so it was a lovely moment to have him return as a minister and preach the gospel. After the worship service there were refreshments in the church hall and on display were the Baptismal Registers of the congregation spanning 100 years. George looked through them and there, in black and white, George found his name

. Undeniable, documented proof that he had been baptized in the name of the Father, the Son and the Holy Spirit!
When he told me the story and how he felt seeing his name there, I contacted Bellville Presbyterian Church, where I had been baptized, to ask if they could find my name in the Baptismal Register and send me a picture. Below is a portion of that register with my name and date of baptism – 4th November 1973!!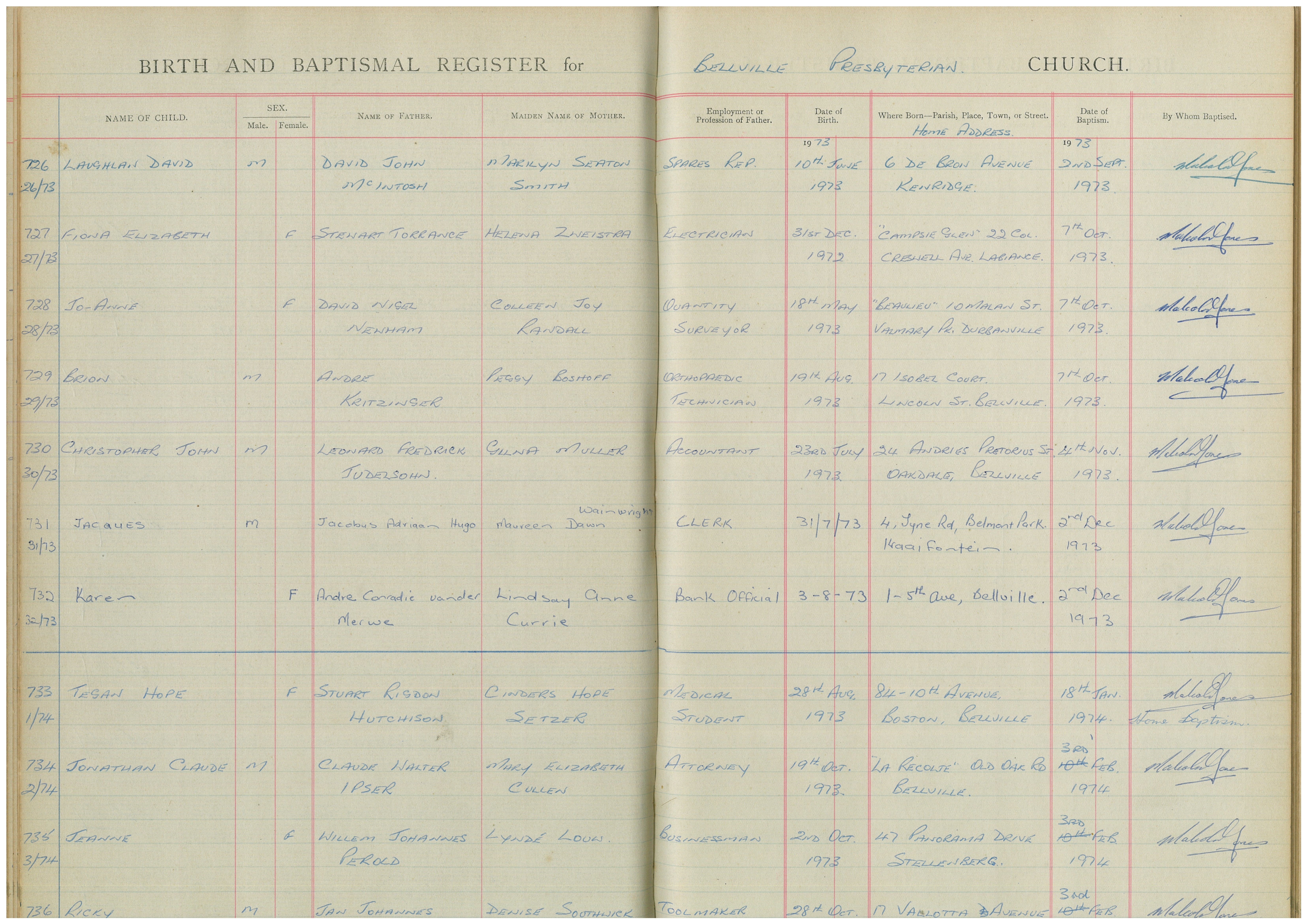 As I look on my name in that Register, I am deeply moved by the thought that I have been part of God's family my entire life. Yes, like most of us, there have been times of wandering away, but my home and my heavenly Father has always been there with open arms to welcome me back into the family.
I am aware that many congregations hold annual Reaffirmation of Baptism services where the congregation is encouraged to renew their vows of faith in Jesus and celebrate their baptism into God's family. We will be doing something similar here at Midchurch early next year, so have look out for that

.
"For we were all baptized by one Spirit so as to form ONE BODY and we were all given the one Spirit to drink." 1 Cor 12:13
With all my love,
Chris"
11 November 2018
Dear Friends,
11th November 2018
Today marks the 100th anniversary of the end of World War I. The armistice that came into effect at 11h00 on the 11th day of the 11th month of 1918 signalled the end of the world's first global war.
Between 1914 and 1918, more than 100 countries from Africa, North & South America, Asia, Australasia and Europe were embroiled in the conflict. The countries from Africa included: Algeria, Angola, Lesotho, Botswana, Kenya, Cameroon, Egypt, Guinea, Ivory Coast, Liberia, Madagascar, Morocco, Nigeria, Zambia, Zimbabwe, South Africa, Tunisia.
Even countries that remained neutral felt the economic and political effects of a conflict that shattered the established global order of the day and set the world up for major social and political changes that we live with today.
With regards South Africa: more than 230 000 troops fought in the war (two thirds were white soldiers and a third were black soldiers).
12 452 South Africans died during the war.
In total, over 70 million military personnel participated in the war and 16 million people died (9 million soldiers and 7 million civilians). These are staggering numbers that reinforce the historical point that this was a World War.
Today we will pause during worship and remember those who gave their lives in WWI (as well as all the other major conflicts since then) that have shaped the world we live in. We will also remember loved ones who have passed away (whether due to military conflict or any other reason) and celebrate that we are all part of a great communion of saints in heaven (and earth).
We will give thanks for the resurrection that has broken the power of death and we will give thanks for the promise of eternal life. We will also honour all people who, like Jesus, live their lives in service of others.
With all my love,
Chris
4 November 2018
Dear Friends,
I was on my way to Ministry House this afternoon after an appointment with one of our members and I heard a report on the radio about the Gender-Based Violence Summit taking place today in Irene, Centurion. According to the latest report released by Statistics South Africa on gender-based violence, 70 813 women reported sexual offences in 2016/ 2017!
Please take a moment to let that figure sink into your mind! And these are only cases reported. Our country, like many others (most others) around the world is plagued/diseased/broken by the scourge of the abuse of women (not to mention children and the elderly).
At the heart of this abuse/violence lies the sin of patriarchy! In Genesis 3 we are told that as a result of the fall of humanity, i.e. the willful rejection of God's ways and God's love for us, men would dominate women (Gen 3:16). But, NOTE: This was not a blessing spoken over Adam (men) by God. It was a curse! The direct result of sin. But, men of every culture and age around the world have treated it as a divine injunction – the will of God – and so, 'who are women to want or expect anything different?' Most men do not treat women as God envisaged it in Gen 1:27, as an equal in the image of God. And so through the violence of words and hands, men have oppressed and dismissed and belittled and forced women to do their will.
I was appalled to hear recently of a Church community known to me that have no women on the Church Council! And then they hide their sin of patriarchy behind misquoted and misunderstood passages of scripture that 'keep women in their place'. What nonsense! Jesus died and rose again to break the power of sin and evil, and its consequences. In Jesus there is no male or female (Gal 3:28). This does not mean that there is no gender in Jesus, of course there is, men and women are different in so many ways, but with the curse of patriarchy broken, women stand side by side with men fulfilling our calling to serve and build his kingdom of love and grace…. together!
So, what can you and I do? Can we pray, in Jesus' name, against the evil of abuse and patriarchy in our land? Yes! But, we can also do something more. We can intentionally/purposefully teach our men and boys that all women are to be respected and seen as equals. No crude jokes, no shouting or beating down, no objectification (women are not property), and no belittling or patronizing or condescending, simply because one human being has different anatomy to another.
With all my love,
30 September 2018
Dear Friends,
For the past few years we have joined with numerous congregations in the UPCSA to mark the month of October as the Month of Mission. In particular, this has meant two things: Firstly, sharing the same themes and scripture texts for the 4 Sunday's of the month and, secondly, participating and sharing in the daily email devotions on the theme of the month. This year we will not be joining in with the preaching themes because of our teaching series on Psalm 23, however you are encouraged to sign up for the daily devotions which are written by Ministers of the UPCSA (myself included).
The theme for this year's Month of Mission is: "Wherever I am: Recognising God's heart for the world and my part in His plan." The Convener of our Church's Mission and Discipleship Committee, Theo Groeneveld, comments: "When we use the word 'mission', many Christians think about people called to study a foreign language and culture and to travel to the other side of the world where they will be missionaries. In this framework, mission is seen as the work that Jesus placed in the church's hands and that he is waiting for us to complete the task…
But, what if Mission looks different? What if the earliest articulation of Mission can be found in Gen 3 – 'Adam where are you?' What if God has always been on a mission to restore humankind and the world broken by their sin? What if, instead of 'taking God' to people we going to join God in what he is already doing in the community? What if mission is not about 'delivering' God to a community, but joining a community in discovering what God is already doing there? By this understanding, Mission isn't about going, but about being. And so, the theme for our month's devotions is: 'Wherever I am: Recognising God's heart for the world and my part in his plan.'
If you would like to receive the daily devotions, please subscribe by typing the following into your internet browser: http://eepurl.com/dB6tn5.
With all my love, Chris
23 September 2018
Dear Friends,
Last Sunday we spent a moving and uplifting time in worship as we paused to acknowledge the many blessings and graces that God has showered over our lives. We heard 4 testimonies from members who shared how their trust in God has helped them in their recent journeys of faith and life, and we were able to bring our offerings to the Lord with a very large collection of non-perishables for the Sir Alfred Health and Elderly Care Centre in Klipfontein View (you can see some pics on Facebook in this week's edition of The Link).
Also, as part of our thanksgiving, all those attending worship were encouraged to write down one thing they are thankful for and then offer that to the Lord too. I mentioned, after the offering was brought forward, that I would like to have a look at the thank you notes and possibly share some of them with you. Well, this week I was able to read the notes and I was soooo encouraged by your thanksgiving. Everyone received a piece of paper with the words, "Lord, I am thankful for…" printed on the top and then invited to complete the sentence. Here are a few examples of what you wrote…
Lord, I am thankful for….
Health…. Vision…. Worship…. Freedom of Faith…. An Income…. Love…. Husband…. A New Day…. Your Provision…. Girlfriend…. Church Family…. Beautiful Grandchildren…. Education…. Hands…. Another Day Sober…. Sale of House…. Neighbours…. Saving Me…. Phone…. Water…. Your Holy Spirit…. Teachers…. Sending Jesus…. Mental Health…. Our Country…. Your Love and Creation…. Good Shelter…. Music…. Healing being Experienced in our Home…. Bible Study…. New Home…. Today…. Car…. Enough Petrol…. Your Guidance in my Life…. Midchurch…. Forgiveness…. Salvation….
And two of my favourites:
"Lord, I am thankful for…. a nice builder!" Can I hear an AMEN?
AND
"Lord, I am thankful for…. beating the All Blacks at Last!



With all my love, Chris
PS – I am very thankful to Jesus for you!!
16 September 2018
Dear Friends,
On Wednesday we held the second last Bethel Bible Study Series meeting of the year. We are all but finished reading and learning about the New Testament. As always with the Bethel Series, it has been an insightful and faith growing journey for the group.
Our second last study was on the subject of Sanctification, which is the theological term used to describe the process in which our lives are changed/transformed by the Holy Spirit into the likeness of Jesus so that we can discover the fullness of life that Jesus promises to us in John 10:10. In other words, when we turn our hearts and minds towards the Lord, daily, and allow his Spirit to lead and guide us, we discover that he changes us, for the better J. Selfishness, arrogance, pride, hatred, anger etc begin to be worked out of our lives as we become more and more like Jesus. It does not happen overnight, but is a life long journey.
A verse that describes sanctification well is found in 2 Cor 3:18 – "And we, …, are being transformed into his (Jesus) likeness with ever-increasing glory, which comes from the Lord, who is the Spirit."
The Bethel lesson went on to describe the marks or signs or characteristics of a life that is being sanctified. It listed 12 and they are all significant, but because of what we are sharing in worship today, the 16th of September – Thanksgiving Sunday - one of the characteristics stood out for me in particular, i.e. that the transformation the Spirit brings "broadens a sense of gratitude to God" in the believer.
In other words, when we seek God and the work of his Spirit in our lives we find ourselves saying, 'Thank you', far more often than we did before. And, I don't just mean the polite 'thank you' when someone hands us our change at a shop or serves us our meal at a restaurant, but the intentional expression of gratitude to God for the many blessings and graces in our lives.
We can be quick to complain (even if it is justified), but often slow to acknowledge the gifts that God gives us every day.
How about pausing for a moment…. And saying 'Thank You' to God for….
With all my love, Chris
9 September 2018
Dear Friends,
I like to solve problems… I think most of us do. Whether, it is a word puzzle or a DIY challenge or a broken relationship, I want to dive in and see what can be done to help. And, most often it is the simple, back to basics, strategy that works best. However, this week I missed the obvious, simple solution, convinced that the problem was quite complicated!
The problem was, as we like to refer to these kinds of things in our home, a 'first world' problem (i.e. not a matter of life or death

). I got home on Tuesday afternoon to the disturbing news that the DSTV remote had stopped working. In fact, the children had to change channels manually on the DSTV machine!!! This was intolerable and required Dad's problem solving skills. I jumped at the opportunity and assessed the problem. When a button on the remote was pressed, nothing happened, except occasionally the two LED lights on the remote flashed red. My conclusion was that somehow the remote had been reprogrammed and required some kind of reset. I quickly went online to Google the problem. I had a number of hits on my search and went through 3 DSTV remote guides to try and troubleshoot the problem. It seemed from my extensive reading that I had to reset the remote, i.e. to get the remote back to the original factory settings. I read how to do this and followed the instructions, but the remote was not responding as expected. I tried a number of times, to no avail. The panic was growing in the household as the prospect of a remoteless evening lay before the family. I would not be defeated and read some more. Finally, I came across a small print sentence at the bottom of one of the pages that suggested that the batteries may need replacing! I thought that it could not be so simple, because the problem was clearly a complex one. I scratched around and found two AA batteries, inserted them and, like a miracle, it began working like normal again!! Praise the Lord.
I don't want to underestimate the complexity of some of the many challenges you and I face in this world, but sometimes we can over complicate matters by assuming that the solution must be a difficult one, only to have missed out the simple options. When Jesus was asked to sum up all of God's instructions to us (instructions meant for our benefit and blessing) he said, "Love the Lord your God with all your soul and love your neighbor as you love yourself." Sometimes all that is needed is a reminder of the basics in this life:
-

Love God: place him at the center of your life, plans and decisions. Pray, worship and seek his guidance.
-

Love others: Show respect and kindness and serve the needs of those around you.
-

Love yourself: Make sure you eat a healthy diet, rest, exercise and laugh a lot.
Do you perhaps need to get back to these simple basics in your life? Give it a go, you may be surprised.
With all my love, Chris
2 September 2018
Dear Friends,
I share this with you in no way to boast, but simply to illustrate the subtlety of temptation and the power of God to overcome it.
On Monday Keryn and I did some clothes shopping and we were in Woolworths at Mall of Africa with a few items paying at the till (as I type this I realise that many of my anecdotes come from shopping! J)
We had two cashiers helping us. It seemed like the gentleman was a trainee, although he did not have a trainee badge on, because the lady assisting him kept checking what he was doing. I suspect that this interference from his assistant caused him to be a little flustered because by the time he took the last item of clothing to remove the security tag, scan it, fold it and then place it into the carrier bag, he forgot the step of scanning it. I noticed that he had not scanned it and as he placed it into the bag and told us the total cost (which excluded the last item) the thought crossed my mind that all I need to do to get a free item of clothing was…. say nothing! A nudge from the Lord and I knew that I could not remain silent and so I politely told him that he had not scanned the final item. He responded by telling him, quite confidently, that he had. In that moment the thought in my mind was, "Wow! A second chance to get away with not paying for the one item. It won't have any real impact on Woolies. Perhaps I should just go with it?" But, again, the Spirit's nudge, and I insisted that he had missed the item. He (and his assistant J) checked and realized that he had missed the final item. He thanked me sincerely and I paid.
I walked away pleased that I had not succumbed to the temptation and held my ground, so to speak. I have no doubt that it was the work of the Spirit in me and is to his glory. But, how easy it would have been to have said nothing walked away and in so doing having broken two of the 10 commandments – DO NOT LIE and DO NOT STEAL!
Two things struck me about this experience. Firstly, that God's instructions and values are given to us for our benefit, i.e. when we follow them the result is a society/community/world in which life is lived fully and in respect of God and others, because that is the intention of his instructions – to bless us. Secondly, that silence is not an option when we are faced with injustice and wrongdoing. By remaining silent we perpetuate an unjust society. We must speak up, even if remaining silent seems like the easier option.
With all my love, Chris